Looking for quality and affordable Home Painting services?
Best Homes Renovation House Painting Services In Noida Delhi NCR
Top Painting Contractors in Noida – Best Painting Services Noida Delhi – Classic Infrahomes Interior
Classic Infrahomes Interior is a reputed Home renovation and whitewash wall Painting services company in Noida Sector 137 near Paras Tera, We work in  Ghaziabad Delhi NCR which deals with Civil Work construction house painting. Classic Infrahomes Painter is a group of Civil Work Contractors in the Delhi NCR area like Noida, Greater Noida, Indirapuram Ghaziabad Delhi NCR. Contact us today.
Our Services
We create a colorful world for you and for the people you care about. Let the splash of creativity dress up your place with the beauty of unique hues. Interior designers in Noida, Colours played an essential role since ancient times. Even during the black and white era, used colors in real life. The man did not invent colors. It's a beautiful and precious gift of nature given to humanity to full fill our lives with the color of happiness and joy. Just look around you; nature offers you a wide variety of hues. From blue oceans to green forests, widely colored flowers to beautiful painted marine life is the precious art possessed by nature.
Home Painting Services in Noida
We turn your walls into Bright & Beautiful Homes
House Painting is the most aspect of your dream home, and how a home looks majorly depend on the home painting. We all strive so hard to live in a beautiful house. We all have aesthetic visions about how our home sweet home should be. Classic Infrahomes aims to turn those beautiful aesthetic visions into reality! We work on your dreams to make the walls of your homes look like fantastic art pieces. Every room of your house needs to look different, serving its purpose. Where your living room needs to look royal, your bedroom is supposed to look serene, whereas your kids' room needs to look artistic. We are here to fulfill all such needs and demands. You can fully trust Classic Infrahomes without having to worry about quality as well as budget.
We offer free expert consultation on colors, finishing, material, and budget. We offer you enormous design and finishing options for your Home Painting that easily fits your budget. So come and paint your beautiful house with Classic Infrahomes.
Classic Infrahomes offers Home Painting Services in Delhi, Noida, Greater Noida, Ghaziabad, Faridabad, and Gurgaon.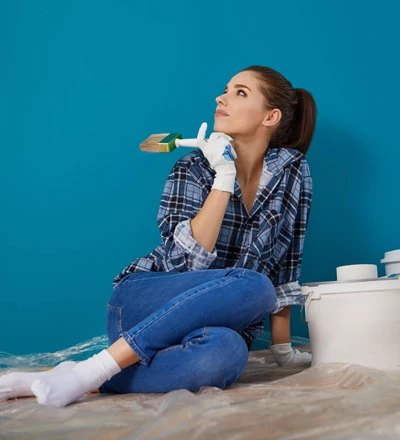 Home Renovation
Classic Infrahomes Painter provides Home Renovation Services Noida and Delhi/NCR. Home and office renovations are becoming very popular these days. we aim to deliver the best whether you want to work from home or make your office as comfortable as your own home. We take complete responsibility for providing you a wonderful ambiance, construction & renovations imported, Paint Work, Woodwork, Masonry Work, POP Work, and Tiles Work.
Our specialty is painting work. Here are some of our focus points:
House Painters in Noida, Delhi
Painter in Noida: LIGHTING
Lighting is one of the essential parts, to begin with, the renovation. LED replacement bulbs can make a major difference in a workspace. Renovation Wale recommends replacing some of those incandescent bulbs with retrofit LED fixtures. These fixtures bring a modern design to your home office while enhancing the brighter space for you to turn out your best work.
Classic Infrahomes Painter in Noida: Call +91 8810273434 for best Home Renovation Whitewash services In Noida, House Painter Near Me Greater Noida, Indirapuram, and Delhi NCR. House Painters is a group of whitewash wall painting home renovation, House Painting company serving in Noida, Greater Noida Indirapuram Delhi NCR.
Which are the top House Painters in Noida?
Classic Infrahomes Painters in Noida, Delhi based company always stand for clients and home lover to provide home renovation, wall Painting, house painting, Civil work Construction, and Interiors designing contract services with our high-quality service. House Painters is a well-known company in painting work like House Painting, whitewash, wall Painting, home renovations cover Delhi NCR locations including Noida, Greater Noida, Indirapuram, Delhi. Our Company works on all types of projects, whether residential, commercial, and industrial, in Noida, Greater Noida.
House Painters in Noida, Delhi
We specialize in House painting, Wall Painting, home renovation, kitchen remodeling, bathroom remodeling, Interior Designing, home painting, and woodwork/carpentry work which meet your needs when you decided to renew your home, offices for new looks, so you need contractors to makeover your home, office buildings with latest remodeling latest designs at affordable prices.