Take a look at the most popular Wardrobe Designs among our 2000+ satisfied customers.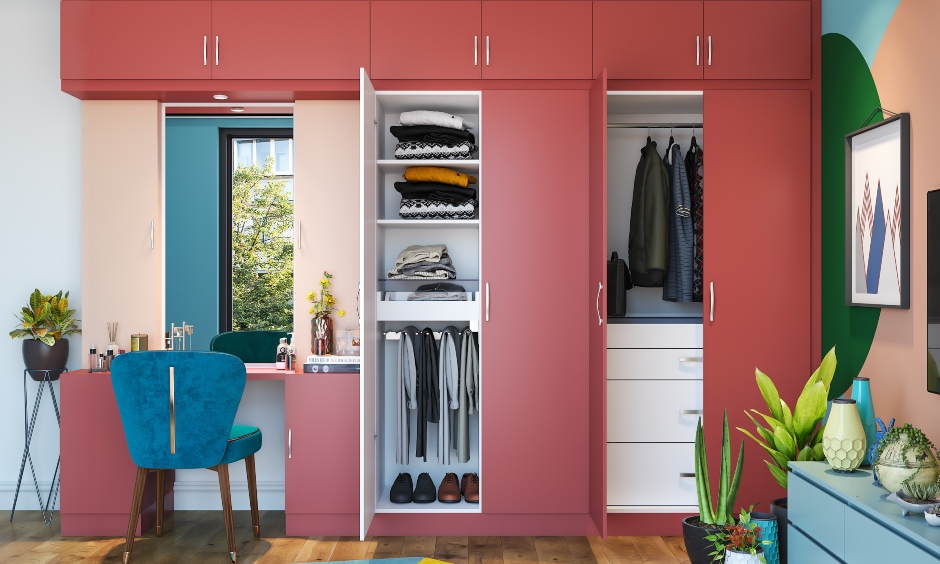 A Matte-Finished Wardrobe in Pink color with an Attached Dressing Unit
This matte-finish floor-to-ceiling wardrobe reflects an elegant interior style. The earthy terracotta pink colour adds a splash of zing to the room. The floor-to-ceiling design includes an attached dressing unit, which is a clever use of available space.
Specifications
Organizing your personal belongings is made easier with the twin wardrobe's many section design.
Coat and jacket rods and a pull-out trouser hanger are included in one of the units.
The other unit has several drawers for convenient storage.
An attached dressing unit with a large mirror and accessory shelves on either side has been included.
Additional storage is provided by the dressing table's two base cabinets.
Loft storage with hinged doors can be used to keep travel bags and linens out of the way in the closet.
Wardrobe With An Attached Open Shelf For Shoes and Bags
Grey Laminate is used to finish this minimalist wardrobe. It's a three-door wardrobe with multiple storage compartments for organised storage.
Specifications
Slate-coloured wardrobe design with a minimalistic look and feel.
This 3 doors wardrobe features several storage compartments.
Large clothing can be hung in a separate section of the wardrobe from the drawers, which have no handles.
Open shelves in the second section provide ample storage for bottoms, skirts, and handbags.
Shoes and other accessories can be stored on the open shelf that is attached to the wall.
Wardrobe with a Dressing Table in Frosty White and Wood
This high-end wardrobe design features a stunning combination of glossy frost white laminate and traditional walnut. The four-door, loft-style wardrobe reaches all the way to the ceiling of the room.
Specifications
Glossy ivory and classic walnut laminate are used to finish the wardrobe.
It has a variety of storage options, including a tray for additional accessories.
A dressing table with drawers is integrated into the wardrobe.
More storage space can be found in the loft cabinets.
Linen can be stored in the wardrobe's mesh baskets.
A Stunning Wardrobe in Cream High Gloss Laminate and Wood
With a white laminate and light-wood finish, this wardrobe goes from floor to ceiling. Designing with a sliding door mechanism saves space and provides a clutter-free look. In addition, the wardrobe is well-lighted.
Specifications
The light wood finish adds a natural feel to the bedroom.
For easy compartmentalization, the wardrobe has open shelves and handleless closed drawers.
The sliding doors add to the room's clutter-free appearance.
The rod makes it possible to hang large items of clothing with comfort.
Drawers allow you to see and select your outfits without having to open any of the actual garments themselves.