22 Latest U Shaped Modular Kitchen Designs Gallery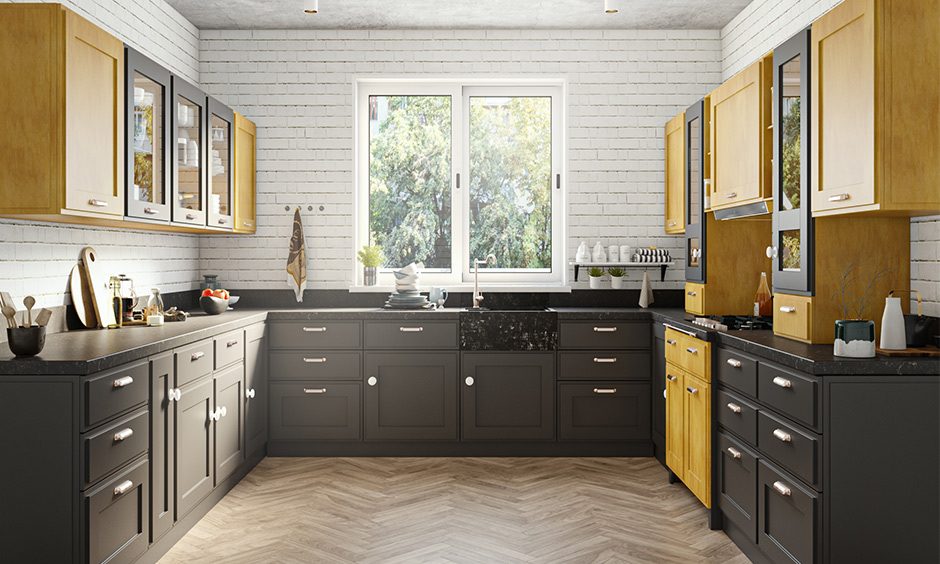 U-shaped kitchen layouts are highly sought after in Indian homes because they offer ample space for cabinetry.
The most practical of all kitchen layouts is probably the U-shaped kitchen. It is a perfect option for busy households as it is made up of three walls fitted with a benchtop, cabinetry, and appliances, all joined to resemble the U-shape. A U-shaped kitchen layout works in large spaces, but even small kitchens can benefit from a U-shaped design. The concept of the 'golden triangle is a natural fit because the fridge, the sink and the stove are at arm's length. This makes it more practical, time-efficient and safe use of this cooking space, which could be harder to achieve in an L-shaped kitchen layout.
And since Indians love to cook, functionality is of utmost importance in any household in the country. A U-shaped kitchen will ensure that the master chef has all necessary ingredients and appliances within their reach at all times without having to move around much. This layout provides extra counter space to work on, and the three-walled design lends ample storage for cabinets. Find out more on how a U-shaped kitchen is ideal for Indian homes.
What Is U Shaped Kitchen?
A U-shaped kitchen contains an arrangement of different kitchen units positioned on three adjacent walls that appear to form the shape of the letter u. Known for their versatility, U-shaped kitchens can be enhanced by adding up a kitchen table or an island.
The Pros And Cons Of U-Shaped Modular Kitchen
U-Shaped Modular Kitchen Pros
The most significant advantage of the U-shape is the flexibility for line balancing. A line configuration only allows balancing with the operations to the right and left of a station. A U-shape cell allowed balancing with stations right and left and behind and to the right and left.
The layout provides an extended countertop space on all three sides and ample storage.
Configuring the working triangle is easy because of an efficient floor plan.
Ideal for an open-plan area so you can add an island easily.
U-shaped design helps to keep traffic out.
Incorporating a kitchen island keeps cooking social.
One of the best kitchen layouts as there is a workstation on all three sides.
U-Shaped Modular Kitchen Cons
Using cupboards and benches on three sides can reduce floor area. Bottom corner cabinets can be difficult to get into. A really large floor area can result in work stations being too far apart. A really tiny floor area can sometimes feel too enclosed.
Using cupboards and benches on three sides can reduce floor area.
Bottom corner cabinets can be challenging to get into.
A huge floor area can result in work stations being too far apart.
A really tiny floor area can sometimes feel too enclosed.
Lots of corners, so you have to be particularly efficient with your base corner cupboard designs
It can make for a cramped layout in a small home/space where the passage is narrow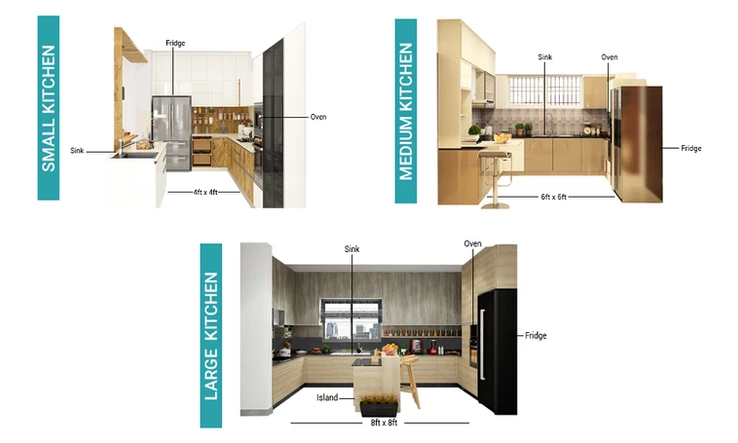 User-friendly U Shaped Kitchen
U-shaped kitchens are designed to be user-friendly. Having benchtops on three sides allows for ample cooking space, and all of your appliances are easily accessible. If you want to maximize space, you can ensure benches are clutter-free by keeping your microwave, appliances or large cooking essentials in the kitchen cabinets.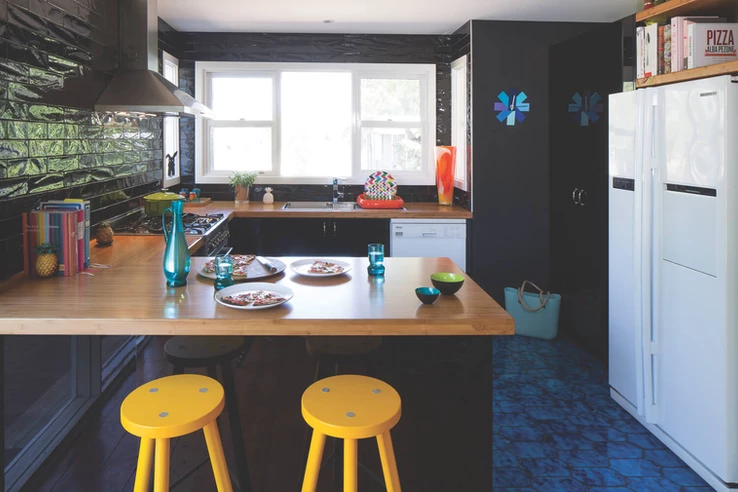 Keep It Simple
If you have a small area to work with, it's best to design a minimalist-style kitchen. Do not overload the modular kitchen with too many appliances and accessories. This impressive all-white and yellow U-shaped kitchen is minimalistic in design with sleek push to open cabinets in high gloss laminate both above and below. White and yellow make a pleasing colour combination.
This compact U-shaped kitchen gradually opens up as you move around.
Brighten Up The Kitchen
It should come as no surprise that a U-shaped kitchen, like this one, is versatile as there are many ways you can style it. It is a very flexible layout. Add more grit to your U-shaped kitchen by painting it in an eye-catching colour. Look at the bright colour scheme of the kitchen in this image. Isn't it lovely? Parrot green mixed with white speckled marble countertops, a brick wall backsplash and cute white knobs on cabinets make this whole kitchen green with envy.
Colour coordinate the cabinets and countertops to give this kitchen more oomph and zing.
Also Read: 25 Parallel Kitchen Designs For Your Home
One of the critical things to remember about U-shaped kitchens is there is a lot of flexibility when designing them. There are many possibilities with what you can achieve with this layout. Talk to your designer and find a U-shaped kitchen that's right for your lifestyle and needs.
Knowing the latest kitchen trends of 2021, you can find them here.