Choose the Best Flooring for Your Kitchen
Making sure you choose great kitchen flooring can have a significant effect on the overall appeal of your kitchen. Your flooring takes up a lot of visual space and is therefore incredibly important for your kitchen renovation project.
Best results are achieved in open kitchen/living/dining areas if there is continuity of flooring. If you are partial to a bit of carpet underfoot when you sit down to watch TV, try adding a large rug to define the zone and add a bit of warmth. The end result is less jarring (and more easily updated) than an oddly shaped tiled area to accommodate the kitchen.
Some things to consider in kitchen flooring selection are:
How hard-wearing the floor needs to be – are you going to be barefoot, in slippers, or wearing hard shoes or heels?
Is the floor going to be getting a lot of foot traffic?
Do you have pets that could scratch the floor?
What sorts of things might you accidentally spill on it?
The frequency of accidental spills.
Best Kitchen Flooring Ideas | Choose the Best Flooring for Your Dream Kitchen
Floating Floors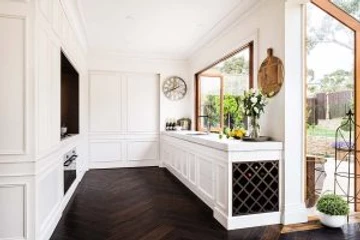 Kitchen Flooring: Floating floor
Floating floors are easy to install, durable and come in a range of colours. Bamboo, timber veneer and vinyl will all work well in a kitchen. Beware of cheap veneer flooring as it will split and peel.
Floating floors do not have to be run of the mill, in fact, the opposite is true – they can create an effect that is as unique as you.
Linoleum
Linoleum is cheap, available in a variety of colours and effects and is easy to clean. It rolls easily over any flat surface; therefore, it is still a common choice for kitchen flooring. While damage can happen easily if you frequently wear heavy solid shoes or drop heavy items, if care is taken, and a high-quality product is chosen, it will last as long as your kitchen.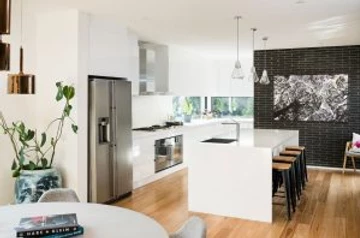 Timber Flooring
Kitchen Flooring: Timber floorboards
Timber that has been sealed with a two-pack polyurethane provides a beautiful, hardwearing and easily cleanable finish for your kitchen floor. Timber is a natural product and will sit well with any colour scheme. It will never date and can be stained or given a different level of gloss coating if you need a fresh look.
Granite, Marble and Slate Flooring
As with benchtops, granite flooring can be quite porous and needs to be sealed, however, it gives a unique look. For a kitchen floor, it is good to bear in mind that natural stone is hard. Consequently, items dropped on stone floors rarely survive.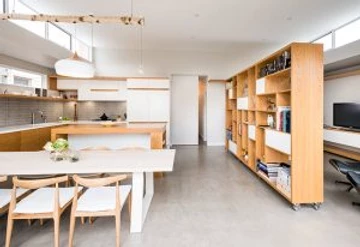 Concrete
Kitchen Flooring: Polished concrete
Concrete floors have a unique look, especially if polished and then coated. You can also "wash" the floor for all sorts of different finishes. Furthermore, concrete floors are generally very hard-wearing and easy to clean if they have been sealed properly.
Tiles
Tiles are a common flooring solution applicable to various kitchen designs. They come in a range of styles, finishes, effects and materials. Tiles are easy to clean, durable and easily matched to virtually any colour scheme.
Classic Infrahomes handpicks the best general contractors to match each project's location, budget, scope, and style. Follow the blog, Classic Infrahomes Stories, for renovation ideas and inspiration, and when you're ready to renovate, start your renovation with Classic Infrahomes.