Plywood is an engineered board that comprises layers (or 'plies', hence the name) of wood veneers. These plies are further glued together under high temperature and pressure. Adding to the strength and durability, the wood grains of alternate layers are placed perpendicular to each other. The commonly used grades of plywood are commercial grade and water-resistant grade.
What is Water Resistant Plywood?
Furniture and cabinets that are constantly exposed to water should be made with water-resistant plywood. The water-resistant quality comes from the bonding material, usually a synthetic plastic resin that renders it impermeable to water. It is favored for areas like kitchens and bathrooms where the chances of prolonged exposure to water are high. Plywood is commonly available as boards of 4' x 8' or 3' x 7', and as variants of these sizes. The available thickness ranges from 3 to 25 mm. Plywood boards that are pre-veneered or pre-laminated help to cut down the finishing time. However, only certain finishes of veneer or laminate are available in such pre-finished ply boards. For a better choice of colors and finishes, pick the laminate or veneer separately and have it pasted on the ply by the carpenter.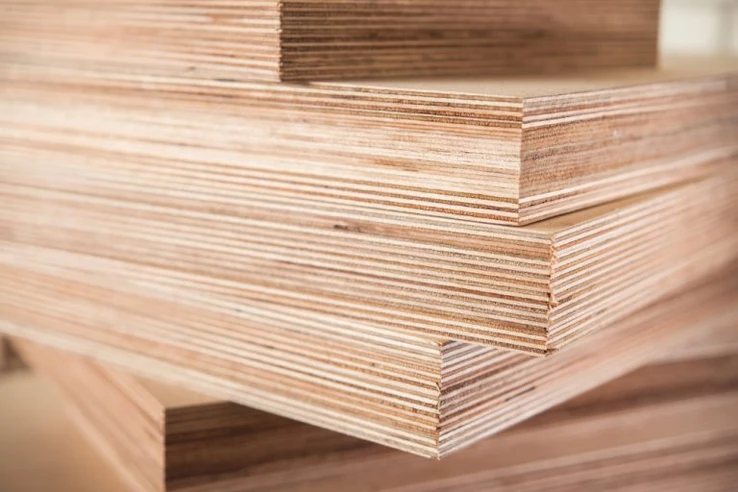 Features and Benefits of Water Resistant Plywood
Plywood is stronger and more durable than MDF. It is used for high-end furniture and cabinetry.
As it is comprised of veneers of wood stacked on top of each other, the core, front and back faces of the board can be of different materials.
A cross-section through the board will clearly show the different layers in the section.
Phenolic resins are used as a bonding material. They give plywood its waterproof properties.
It is dimensionally stable due to the alternate layers of plies and cross-grain construction within the board.
Plywood has a high screw holding strength and grips screws easily.
It is termite and borer resistant and not susceptible to fungus or mould.
By using veneers on the surface of plywood, you can get a realistic wood finish on the furniture. It can be laminated as well.
For shutter and boxes, the cut outer edges of the plywood must be sealed with edge banding tape, membrane, or wooden beading to increase its durability.
Plywood cannot be carved or moulded into different shapes like MDF, as the core is not uniform.
Plywood is more expensive than MDF but is cheaper than solid wood.
Water-resistant plywood is used in kitchens, utility areas, and bathrooms.
The Indian Standards specification number for BWR grade plywood is IS:303
Pro tip: Exterior grade marine quality plywood is also available. It is considered boiling waterproof and can be used in balconies and decks that are directly exposed to rain. Commercial ply, on the other hand, is not resistant to water. Hence it is often used in wardrobes in bedrooms and other furniture that is not exposed to conditions of humidity or moisture.
Where Can You Use Water Resistant Plywood in Your Home?
Water-resistant ply is ideal for use in interior elements ranging from kitchens and bathrooms to furniture, ceilings, and flooring. It can be finished in different ways using a laminate, veneer, or paint to match your décor requirements and theme.
Plywood is also used as a building construction material and can be used for shuttering, flush doors, and partition walls.
What Water Resistant Plywood Brands Are Available in the Market?
Some of the popular brands available in the market are Greenply, Duro, Archidply, Century, Merino, Mayur Plywood, and Uniply. Here are some indicative prices for the leading brands of plywood in the market today:
1. Duro Waterproof Plywood (BWP):
Thickness (mm)

Type

Price in INR (per sq. feet)

Dimension

Price of Sheet (INR)

4
Boiling Waterproof
34.34

+ GST

8×4

1099 + GST

6
Boiling Waterproof
46.06

+ GST

8×4

1474 + GST

9
Boiling Waterproof
60.10

+ GST

8×4

1923 + GST

12
Boiling Waterproof
75.06

+ GST

8×4

2402 + GST

16
Boiling Waterproof
92.23

+ GST

8×4

2951 + GST
19
Boiling Waterproof
109.03

+ GST

8×4

3489 + GST

25
Boiling Waterproof
158.65

+ GST

8×4

5077 + GST
2. Greenply Waterproof Plywood (BWP):
Thickness (mm)

Type

Price in INR (per sq. feet)

Dimension

Price of Sheet (INR)

4
Boiling Waterproof
38.28

+ GST

8×4

1225 + GST

6
Boiling Waterproof

45.48

+ GST

8×4

1455 + GST

9
Boiling Waterproof
54.02

+ GST

8×4

1729 + GST

12
Boiling Waterproof

67.62

+ GST

8×4

2164 + GST

16
Boiling Waterproof
84.95

+ GST

8×4

2718 + GST

19
Boiling Waterproof
96.81

+ GST

8×4

3098 + GST

25
Boiling Waterproof
147.11

+ GST

8×4

4708 + GST
*Prices can vary based on market conditions.
Which company plywood is best?
Top 10 Plywood Brands in India AS Per Rating
Here is the List of Plywood Companies in India.
| | | |
| --- | --- | --- |
| Sr. No | Best Brands of Plywood | Rating As Per Revenue |
| 1 | Century Ply Laminates | 1.00 ⭐ |
| 2 | Greenply Industries Limited | 2.00 ⭐ |
| 3 | SRG Ply & Boards | 3.00 ⭐ |
| 4 | Samrat Plywood Limited | 4.00 ⭐ |
| 5 | Alishan Plywood | 5.00 ⭐ |
| 6 | Kitply Plywood | 6.00 ⭐ |
| 7 | Bansal Sales Corporation Pvt. Ltd. | 7.00 ⭐ |
| 8 | National Plywood Industries Limited. | 8.00 ⭐ |
| 9 | Indiana Plywood Industries. | 9.00⭐ |
| 10 | Woodstock Laminates Ltd. | 10.00 ⭐ |
We hope this article helped you get a better understanding of water-resistant plywood in order to make the right decisions for your home! To get more guidance on material choices and design support, connect with the Classic Infrahomes design team.
People also ask
What plywood is water-resistant?
Oriented strand board
Oriented strand board (OSB) is an engineered plywood substitute that many builders use for sheathing and roof decking. It's constructed with waterproof glue and performs best when only semi-exposed to the elements, as it is when covered with siding or roofing.
Which is the best waterproof plywood?
Top 10 Plywood Brands of India (2021)
Krishna Plywood. …
Century Ply. …
Greenply. …
Kitply Industries Limited. …
National Plywood Industries Ltd. …
Sarda Plywood Industries Ltd. …
Sound of Silence. …
Mayur Ply.
What is the highest quality plywood?
A-grade plywood: This is the highest-quality plywood and therefore typically the most expensive since the veneers will be flawless. A-grade plywood is smooth and can be easily painted. B-grade plywood: B-grade plywood is slightly less smooth than A-grade plywood and has a solid foundation.
Which plywood is good for interiors?
MR plywood is used for furniture like beds and cabinets
Also known as commercial ply by local vendors, is used in interiors extensively. From furniture to cabinets, it has good resistance to moisture in damp and humid conditions, making it a favorite material in tropical areas.
Is MDF stronger than plywood?
MDF is ideal for cutting, machining, and drilling since it does not chip easily. On the other hand, plywood is a much stronger material, which can be used for doors, floors, staircases, and outdoor furniture.