Composite wood is an affordable alternative when you want to use a partition to separate spaces and don't want to spend too much. It is easy to work with and can create a range of styles and designs to add sophistication to a home. By adding veneers or coatings, it can complement the colour scheme of a room. In today's partition designs in living room, we present 22 partition designs for living room that are stunning and functional to inspire you to use this pocket-friendly material to separate spaces in your home.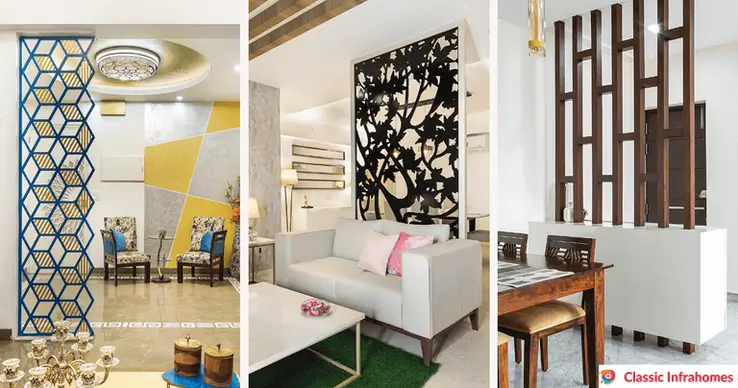 When it comes to creating a partition between the hall and dining room, it has to be beautiful since it is where the family gathers and friends are entertained.
There are numerous questions to consider while planning for partitions. It is often a significant worry for individuals uncertain of how to make that well-balanced space. Don't worry, our interior designers in Noida have got your back. Read our constructive guide below to ensure you're going to get a partition design for our house. If you are looking for the best partition ideas, you will find the following methods relevant from Classic Infrahomes Living Room Interior Designers in Noida.
Partition designs in living room with Metal Frame + Plywood Shelves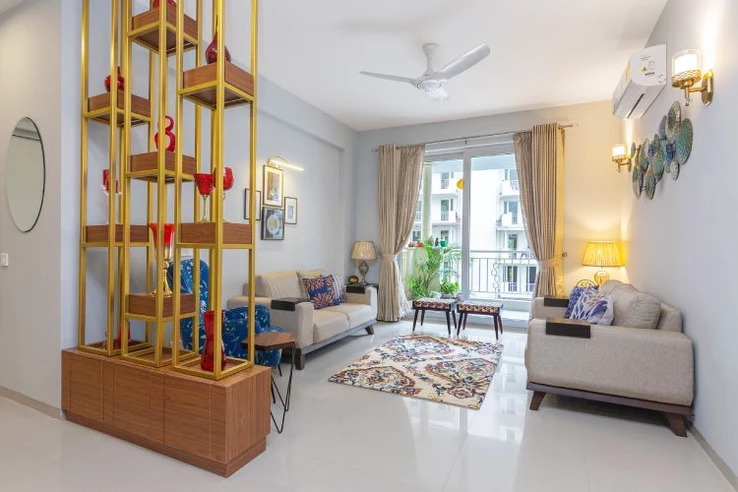 Looks best in Foyer & seating area
Material: Metal and plywood shelves and base
How to Use: Integrated room divider partition like this is very useful. The setup includes metal frames on a plywood base that has closed storage. Within the frames, plywood shelves allow display. You can use such partition designs to segregate the seating area from a foyer or dining space.
Glass + Acrylic Paint Partition designs for living room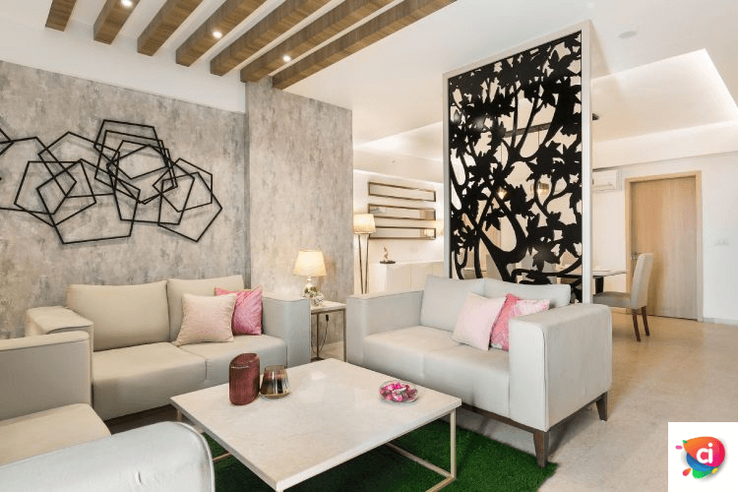 Looks best in Seating & dining area
Material: MDF + glass painted with acrylic paints
How to Use: If artsy is your preferred style, you must go for this creative type of living room dividers. It is a plain panel of glass that is painted over with acrylic paints. Not only is it an economical option, but it is also excellent to create some play of light in your living room.
Metal Frame + Planter Partition designs in living room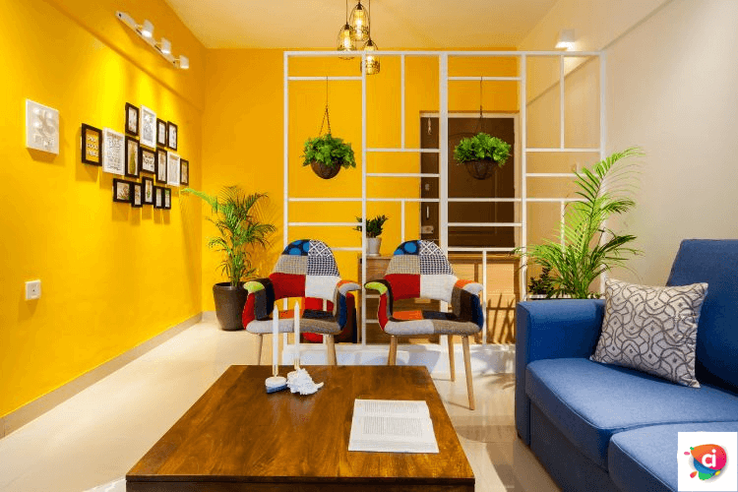 Looks best in Foyer and seating area
Material: Wrought iron
How to Use: Ideally, this kind of living room partition can help you carve out a foyer when there is none. As per the tenets of Vastu, every home should have an entrance. Even otherwise, an entryway builds up to the house. So pair this sleek metal partition with hanging pots and brightly coloured wall paint for an invigorating entry to your home.
Metallic Shine Golden Partition designs for living room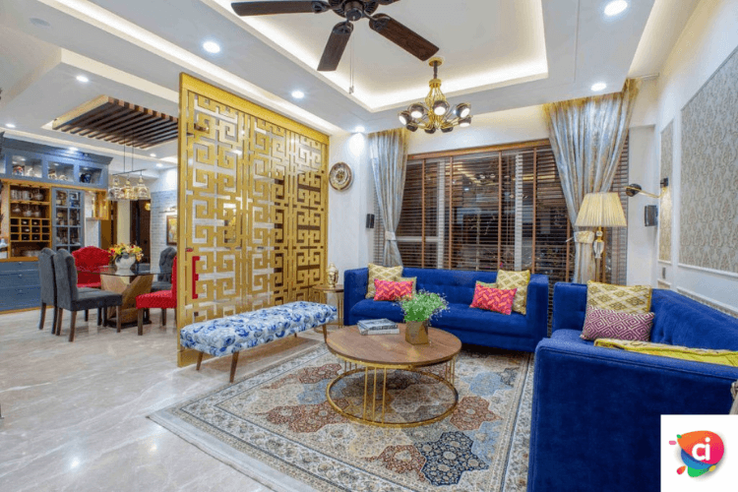 Living room partition designs in Indian homes can lend an understated elegance while fully serving their purpose here, although it doesn't give much protection. The beautifully crafted partition in gold divides and decorates the space aesthetically. The foyer partition looks excellent when the room is well-lit.
Hang Some Planters to Go Natural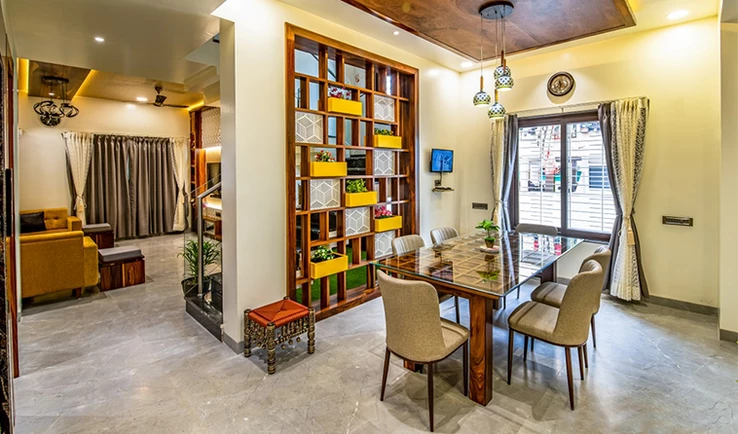 Hanging gardens make for stunning partition designs between living and dining because they bring a lavish fly into space and naturally clear the air.
Contemporary Partition:
It is designed to separate comparatively large living rooms from the dining area. Although the model is suitable for large interiors, our Classic Infrahomes interior designers can customize it to smaller dimensions as per requirement.
Divider between living room and dining room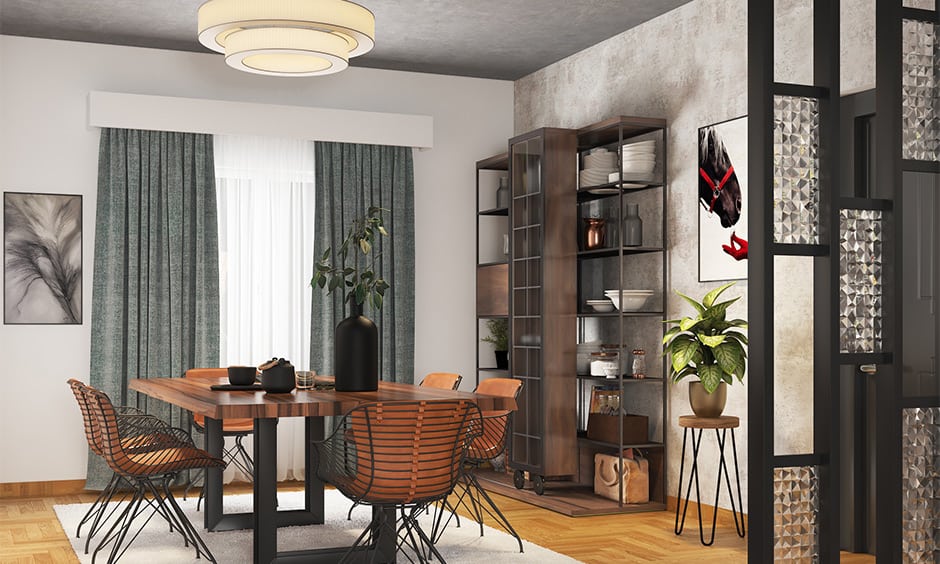 200 New Room Divider Design Ideas 2021 | Living Room Partition Design | Home Wall Decor
Our local artisan can easily create living room dividers in metal and glass, and they are often far less expensive than dividers in furniture shops. Classic Infrahomes best team of interior designers from Noida helps you convert your home into a beautiful and elegant one. Please email us at [email protected] for interiors in Noida.
How can Classic Infrahomes help you?
You can get such beautiful hall partition designs for your home too. All you have to do is book a consultation with Classic Infrahomes. Our expert designers will deliver quality and safe interiors. Learn more about our COVID-19 safety protocols here.
If you enjoyed reading about these partition ideas, also explore main hall living room partition designs in indian
Send in your comments and suggestions– [email protected]