Engineered Wood vs. Solid Hardwood: Which Is Best
What would be your preferred choice of material for your furniture—solid wood or engineered wood? If you are wondering what the pros and cons of each are, our experts bring it to you right here so that you can make an informed buying decision.
What is Solid Wood?
As the name indicates, solid wood is a natural product obtained by cutting down trees. Traditional furniture, lovingly handcrafted when wood was plentifully available, has been a part of our homes for generations. The two main varieties include hardwood, such as oak, maple, teak, and rosewood; and softwood such as pine, rubberwood, and white cedar.
Solid wood furniture is manufactured from slabs obtained by cutting down fully grown and matured trees.
Common wood types include Maple, Oak, Redwood, Mahogany, Ash, Beech, Teak, Rosewood, and Cherry which differ in their colour, texture, and thickness.
Furniture made of solid wood has beautiful grains that are entirely natural, so no two surfaces are alike.
It can be carved and shaped easily and can feature inlays that add to its natural beauty.
It has durability and strength – solid wood furniture lasts for decades, hence can be passed down from generation to generation.
Wood colours vary from light to dark brown and even red depending on the variety of wood used.
Solid wood when exposed to constant moisture gets damaged on the surface, but can be sanded and re-polished to restore the shine.
Solid wood is costly and is considered to be a non-renewable resource as forests take a long time to grow back when cut down.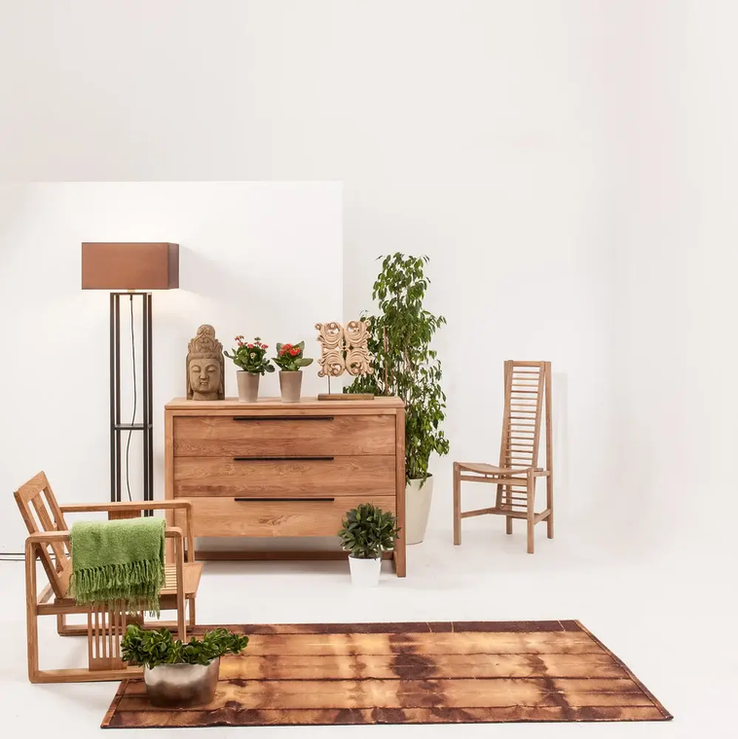 What is Engineered Wood?
As forests began to get depleted, natural wood became scarce and was difficult to source; and as a result, furniture made out of solid wood became very expensive. Different varieties of engineered wood started to be used as a substitute for solid wood which was not readily available. Plywood, HDF(high-density fibreboard) or MDF (medium-density fibreboard), particleboard, and veneered boards are the most common forms of engineered woods available for making furniture. These are more cost-effective, and also more environmentally sustainable than solid wood which has become a non-renewable resource.
Engineered wood is a composite material formed by binding strands, particles, fibres or veneers, or thin wood boards together with adhesives to make a range of products such as plywood, fibreboards, and so on.
MDF, Particle Board, and Plywood are the different kinds of engineered wood that are popular in the market.
Surfaces are enhanced with natural wood veneers or decorative laminates.
Laminated surfaces are easier to clean and maintain since they are water-resistant, and only need to be wiped down.
Veneer surfaces are similar to real wood as they are topped with a paper-thin slice of natural wood, and can be polished like real wood.
Good quality engineered wood is durable and resistant to moisture. Marine ply is most suited for use in kitchens and bathrooms.
Engineered wood is suitable for making modular kitchens, bookshelves, and wardrobes, and can be finished with veneers or laminates.
Furniture made out of engineered wood is affordable, easy to manufacture, and durable. However, it does not match up to the timeless aesthetic appeal of solid wood.
Comparison between Solid Wood vs Engineered Wood
| | | |
| --- | --- | --- |
| Point of Difference | Solid Wood | Engineered Wood |
| Manufacture | Solid wood slabs from trees | A composite material formed by binding strands, particles, fibres or veneers or thin wood boards together with adhesives |
| Types/Sources | Sourced from Maple, Teak, Oak, Redwood, Mahogany etc | MDF, Particle Board, Plywood are various types |
| Durability | Lasts for decades | Not as durable as solid wood. The surface is thin and can get chipped or delaminated if misused. |
| Moisture resistance | Does not stand up well to constant moisture | Engineered wood is more moisture-resistant than solid wood. It does not warp or change dimensions very easily when exposed to moisture. |
| Hardness | Ranges from very hard to soft natural woods vary as found in nature. | HDF is hard and dense, while MDF is medium-hard. Particleboard is soft and not very durable. |
| Sanding | Solid wood can be sanded and refinished any number of times. | Engineered wood can be sanded and refinished lightly only once or twice as the upper layer is thin. |
| Cost | Expensive as it is real wood from trees | Affordable |
| Sustainability | Not eco-friendly, as forests need to be cut to get solid wood and trees are not easily renewable | Environmentally sustainable as it is created using wood products and derivatives. However, some of the chemicals used as binders could be toxic. |
Now that you have all the facts at hand, we hope you're in a good position to make your buying decisions! Or, take the easy way out and leave all the hard choices to the experts. Pop into any one of our Classic Infrahomes offices, or give us a call and our experienced designers will handhold you through all your design and décor decisions!
Frequently Asked Question
#1: Which is more durable hardwood or engineered hardwood?
Engineered wood is made up of a thin veneer top layer of solid wood; however, the remaining base of the product is made up of plywood. Engineered wood is just as durable as traditional hardwood and provides the same classic, timeless look.
#2: What's the difference between engineered wood and solid wood?
Engineered hardwood is also made of genuine wood but has a core of hardwood or plywood with a layer of hardwood veneer applied to the top surface. … Solid wood flooring is inherently durable but must be permanently nailed or glued to the subfloor.
#3: What are the disadvantages of engineered wood flooring?
Engineered Hardwood Cons
Engineered Hardwood Fades.
Susceptible To Scratches And Dents.
Comparable Price To Solid Hardwood.
Low-Quality Core Construction.
Manufacturers May Use Thin Veneer.
Off-Gassing.
They Are Not Moisture-Proof.
Engineered Wood Is Still High-Maintenance.
#4: Is engineered wood cheaper than real wood?
Engineered hardwood flooring is slightly less expensive than solid hardwood. The typical range of engineered hardwood flooring is ₹140 to ₹450 per square foot, with most types falling in the ₹280 to ₹432 per square foot range.
#5: Is engineered wood good for furniture?
This may deteriorate the air quality indoors. Shorter life span: On average, an article of furniture made out of engineered wood not last longer than a piece made out of solid wood. Those who want to make a one-time investment in a piece of furniture may not be happy with the durability.
#6: What is the main benefit of using engineered wood flooring?
Engineered hardwood flooring is designed to reduce the moisture problems associated with conventional hardwood. Its layers block moisture and provide added stability to your floor. Engineered flooring will not swell or warp, making it very low maintenance.