Even if a wardrobe is only going to be used for storage, it doesn't have to be boring. Color, texture, and optical illusion are all factors that your wardrobe's finish can influence to bring harmony to your room's decor. However, the best material for a wardrobe is one that is both long-lasting and fashionable. That being said, why not try something new?  Here's a list of wardrobe materials to pick from: 
Which Plywood Materials is the Best in India for Wardrobes?
Tested and certified plywood– Your search for which is the best plywoods for wardrobe in India would be easy if you have knowledge and understanding of the certifications and what each of them would mean.
The quality plywood is usually those that are ISI certified. You have got to look for the CM/L number as well as the grade number on the top of the ISI mark.
IS: 303- stands for commercial ply
IS: 710- stands for Marine Ply
IS: 1659 stands for blackboard
IS: 2002 stands for flush door
IS: 4900 stands for Shuttering plywood
The quality plywoods are those that are certified after testing and when they conform to the strict testing standards set by the government.
When you buy high-quality plywood from some of India's leading manufacturers of branded plywood, such as Green ply, Century ply, Superior club prime, Western India, Anchor ply, Kenwood, and so on, and hand it to a skilled and creative woodworker, you can be assured of having a classy, durable, and trendy in-built wardrobe that you will be proud of.
1. Plywood
Plywood is a glued-together material made of thin layers or "plies" of wood veneers. Plywood is most commonly found in kitchen cabinets and wardrobe boxes. Plywood is a framework material that is veneered or laminated. Certain commercial ply types are used in low moisture areas such as living rooms for furniture.
Pros
Plywood is a strong and long-lasting alternative to solid wood. Wood veneer is layered on top of each other to create this material. Layers of strength are evenly distributed, resulting in sturdy structures. For the most intricate designs, plywood is a better option because it is lighter and easier to work with. As a base for laminates, it allows for a wide range of colour options without sacrificing strength. There is less wastage because of the larger sheets of plywood and the greater surface area that can be covered by a single sheet.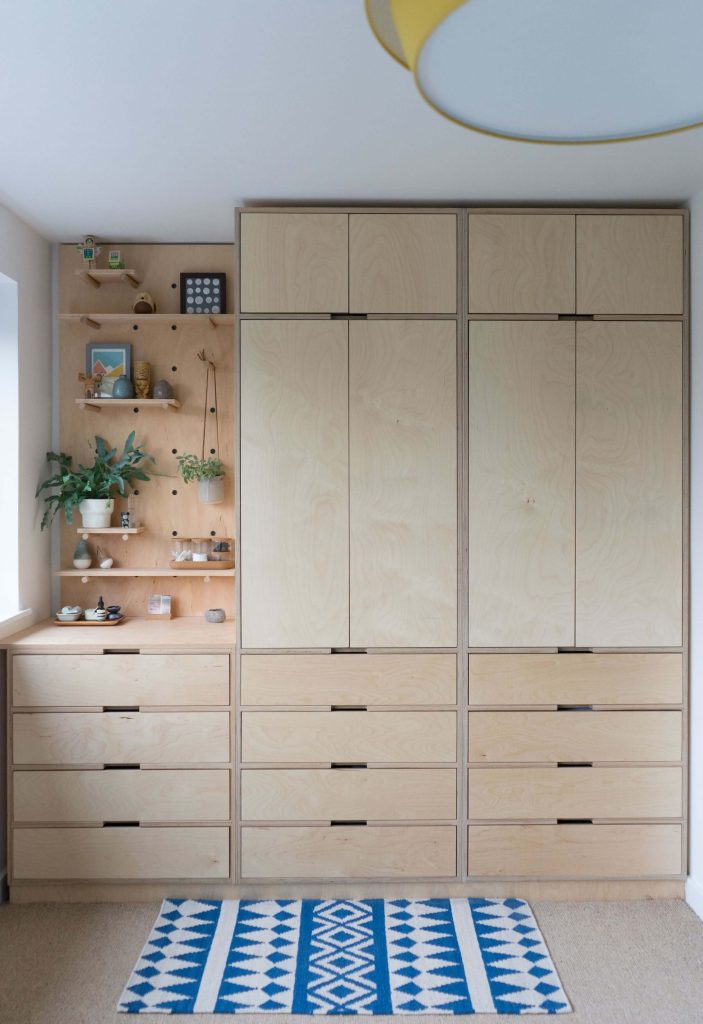 2. Particle Board
One of the most eco-friendly building materials, particleboard is made from recycled wood chips and sawdust. Compared to MDF and plywood, it is less expensive, and it is often pre-laminated, which speeds up the decision-making process. In comparison to MDF or plywood, particleboard is much lighter and easier to work with.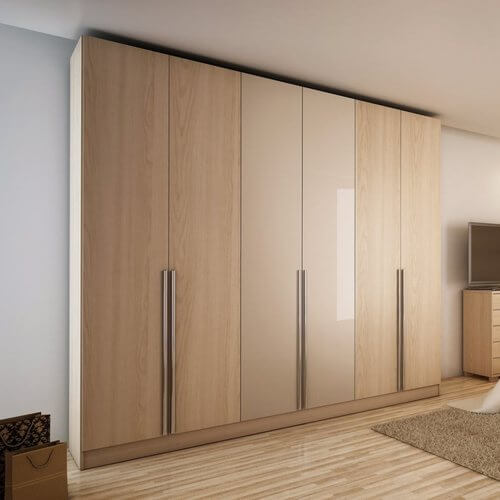 3. Medium Density fiberboard (MDF)
MDF is another material for the core framework of crockery shelves, bedroom, and living room units. Belonging to the same manufactured One of the core framework materials for crockery, bedroom and living room. MDF, or Medium Particle Fibreboard, is made from wood residue that has been hammered into sheets. Because fine particles are used, the resulting surface is smooth and even, with no bumps or knots. As a result, it is the best wardrobe material for painting on. It's much less expensive than plywood and, because it's made from waste wood, it's also more environmentally friendly. Smooth edges allow for decorative cuts and corners, giving you more options for wardrobe design!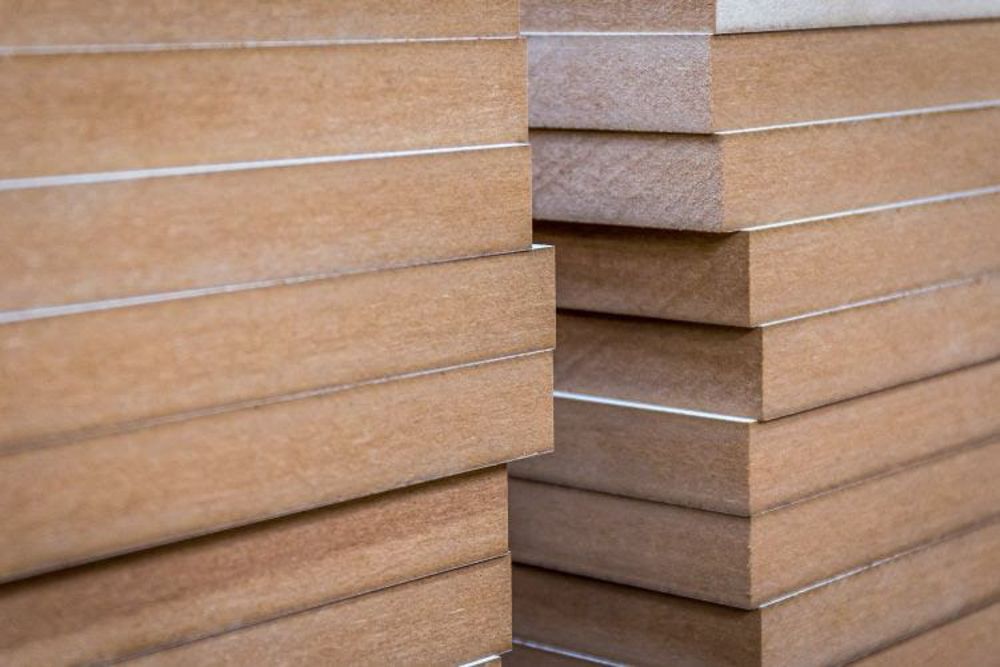 4. Wood Plastic Composites
Wood fiber/wood flour and thermoplastics are used to make WPC. WPC is a pre-laminated material that can be used for flooring, partitions, and kitchen furniture. This is due to the fact that WPC is water-resistant and requires less maintenance. It decomposes slowly and is an environmentally friendly material.
5. Solid Wood
Solid wood is as appealing as it gets. Solid wood complements almost all design themes by reflecting a very refreshing shine. It does need to be polished on a regular basis and is more expensive than other options, but it is often worth it because solid wood adds a very warm touch to the room and is extremely durable.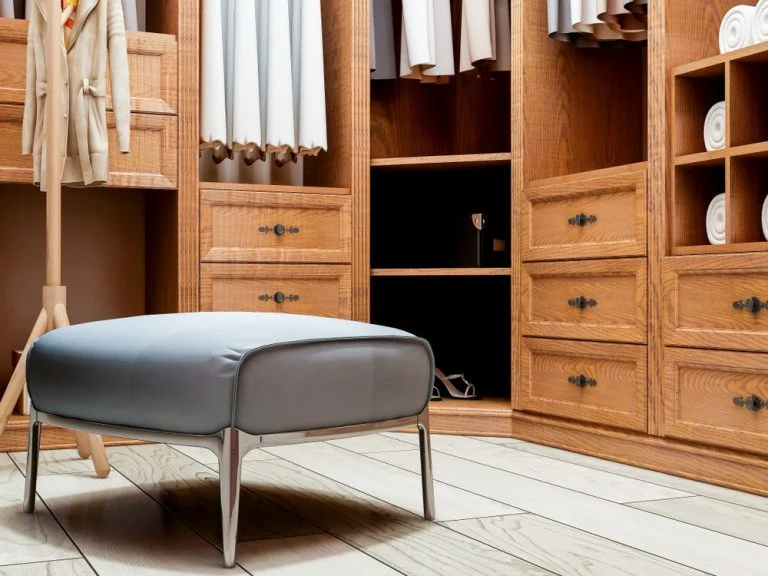 Best Finishing Materials for Wardrobes in India
1. Veeners
Veneer is one of the most popular choices for wardrobe finishes. Made of thin wooden sheets, veneers are go-to for an elegant and warm look. There are so many affordable design choices available under this material that they can suit themes of all sorts.
You can get the look of real wood without the costly price tag if you choose veneer. Glued to an MDF or particleboard panel are ultra-thin slices of natural wood, known as veneer sheets. The natural grain of the wood is clearly visible because it is made of a completely natural material. Just like with solid wood, the veneer can be sanded and finished.
Advantages of Veeners:
Look and feel of real wood, at a fraction of the cost
Disadvantages of veners:
Needs to be re-polished every few years to keep the surface looking good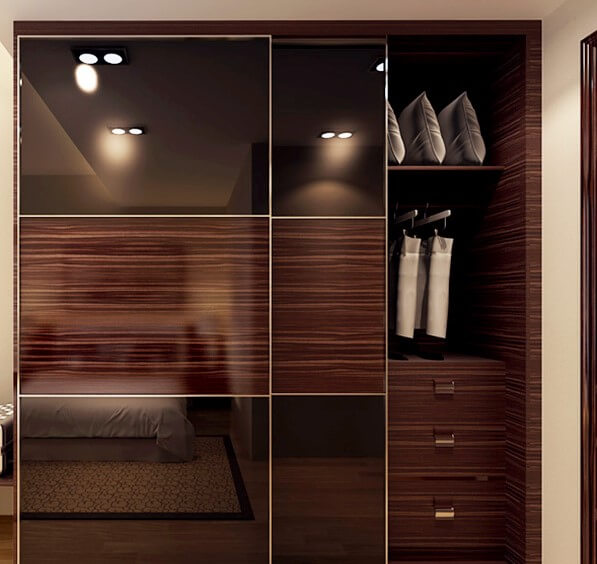 2. Decorative Laminates
Laminates are just an attractive buy as veneers because they are cost-effective, durable, and water-resistant. The wide assortment of The most popular material finish for wardrobes is laminate, which is available in a wide range of finishes, colours, and patterns to match your home's style and decor. Glossy, matte, and textured surface finishes are all readily available, and they work well with both traditional and contemporary designs. They're also long-lasting and inexpensive. A soft cloth and water or soap are all that is needed to clean laminates.
Advantages of Decorative Laminates
Durable, easily maintained, cost-effective and available in a wide variety of options
Disadvantages of Decorative Laminates:
Can get scratched or chipped; also, the more cost-effective varieties look cheap!
Laminates are easy to clean and don't require much maintenance but at the same time, laminate sheets are very brittle. Their susceptibility to scratches makes them perform poorly in the long term because even tiny chipping would call for replacing the whole sheet.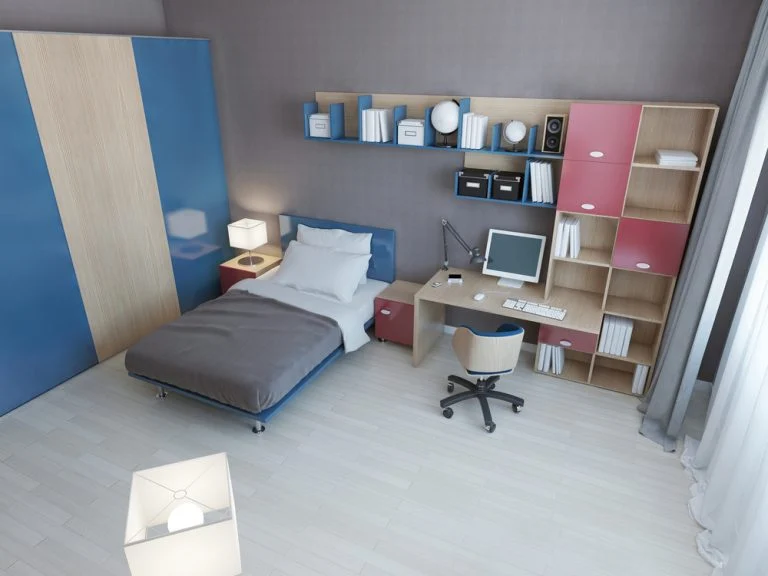 3. Mirror Shutters Wardrobe
Mirrored wardrobes open up a room and give the impression that it is much larger than it actually is. Mirrored shutters are a stylish and modern option for small bedrooms that don't have enough room for a separate dresser. They look great and reflect your excellent design sensibilities.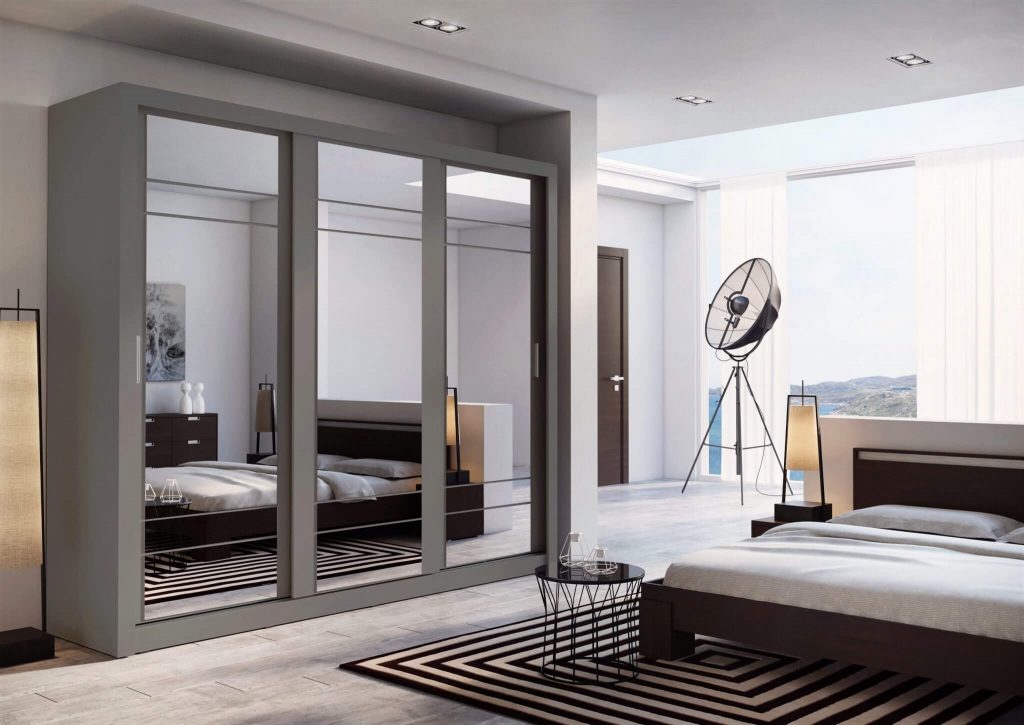 4. Glass-Fronted Closets and Wardrobes
Glass is becoming a popular choice in interior design for a variety of reasons, including its modern appeal. If you want to lighten up a room, use glass-fronted wardrobes. With a simple wipe down, it can be cleaned of fingerprints and stains. While opaque and coloured glass offers more privacy, transparency isn't the only way to go if you're looking for something different.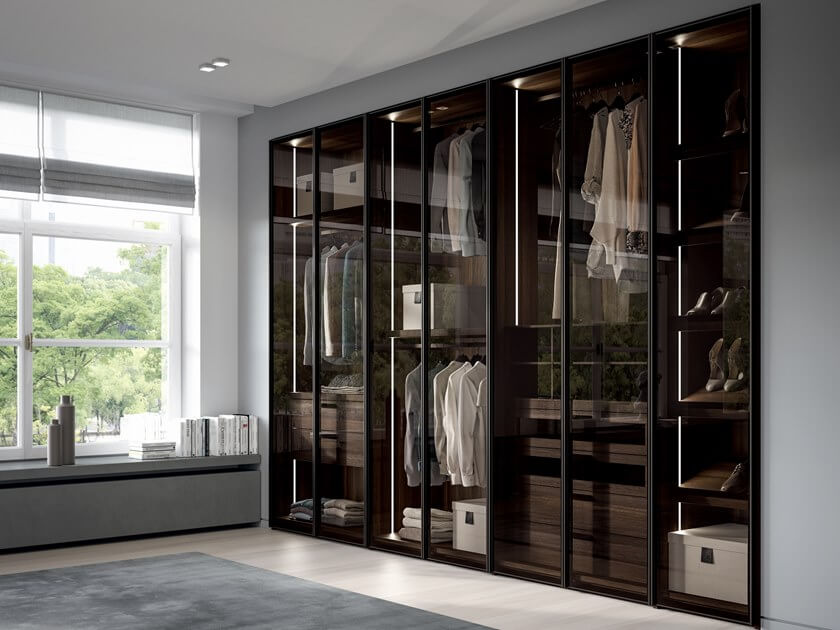 Transparent Glass or Acrylic
If you're a fan of the minimalist look, you might want to consider transparent glass or acrylic shutters for your closet. They give your wardrobe light and airy feel and contribute to the sense of openness in the room. So, if you're not a neat freak, maybe this isn't the best option for you. Having said that, if you choose transparent shutters, you will be forced to keep an organised wardrobe, which is a good thing!
Pros:
Unique and elegant
Cons:
Lack of privacy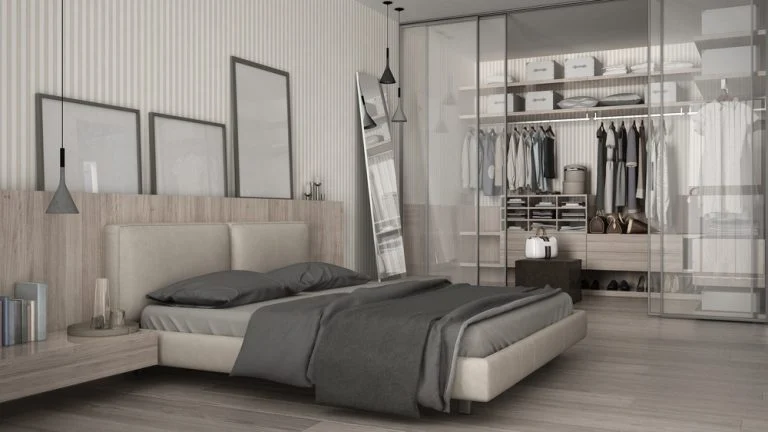 Lacquered Glass or PU Paint on MDF
Alternatively, you could paint your wardrobe shutters for a chic and elegant look that can be easily matched to your home's decor. Lacquer or PU paint can be used to give MDF shutters a glossy, semi-glossy, or matte finish that is seamless and refined. Choose from a wide range of colours to match your interior design and favourite colour schemes.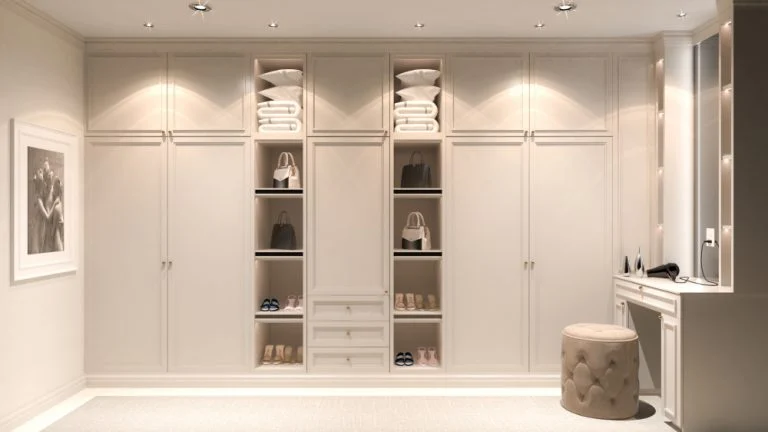 5. Metal Wardrobe
Coming off as unexpected, metal, and leather can be great materials for cabinet because of their high aesthetic values. Something like leather for cabinet can instantly make the whole room appear bolder. It can also look very elegant and expensive. Inspired by the local 'lohe ki almari', metal wardrobes can be very exciting a choice for those who love to experiment. They instantly add an industrial look that can contradict most themes, but can still manage to look cohesive.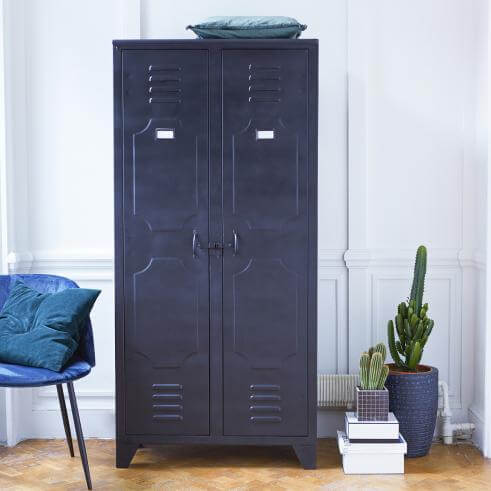 Innovation is always a work in progress, so this list of materials is not where your options have to stop. But these are one of the finest and most preferred.
Now that we have covered all materials used for wardrobes, the most popular materials used for the carcass are plywood and MDF. Their prices are:
| | |
| --- | --- |
| Material | Price range |
| Particleboard | Starting at ₹ 22,000 |
| MDF | Starting at ₹ 24,000 |
| Plywood | Starting at ₹ 33,000 |
| MDF with glass shutters | Starting at ₹ 41,000 |
If you like these wardrobe material ideas, take a look at What's New in Wooden Wardrobes?