Most Indian households, according to Home Interior Designers in Noida, require a safe space that reaffirms your faith in God Almighty, one that provides solace, and one that brings your entire family together during festive times. This specific area is a prayer room known as the Pooja room. Here are a few Pooja room designs that can be found in millions of Indian homes. No matter how small or large your space is, it would be beneficial if you could find the right Interiors Noida, ideal for creating a serene and peaceful atmosphere in your place of worship.
1: A Beautiful Marble Pooja Mandir Designs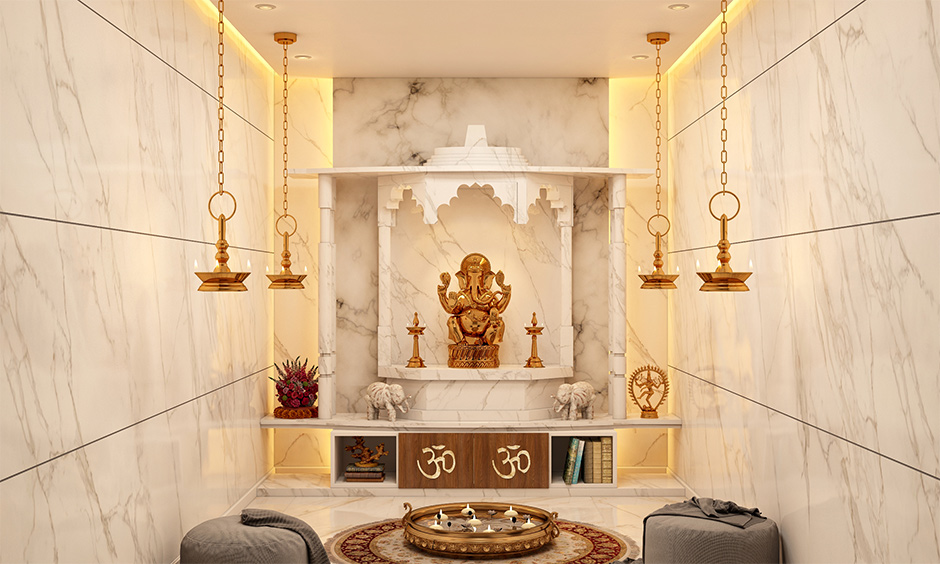 To connect two bold materials, like marble and brass, hang a brass bell from the wall or place brass diyas in each corner. Small pieces of decor will make your pooja room look more beautiful and good-lucky.
Small wooden mandir designs for home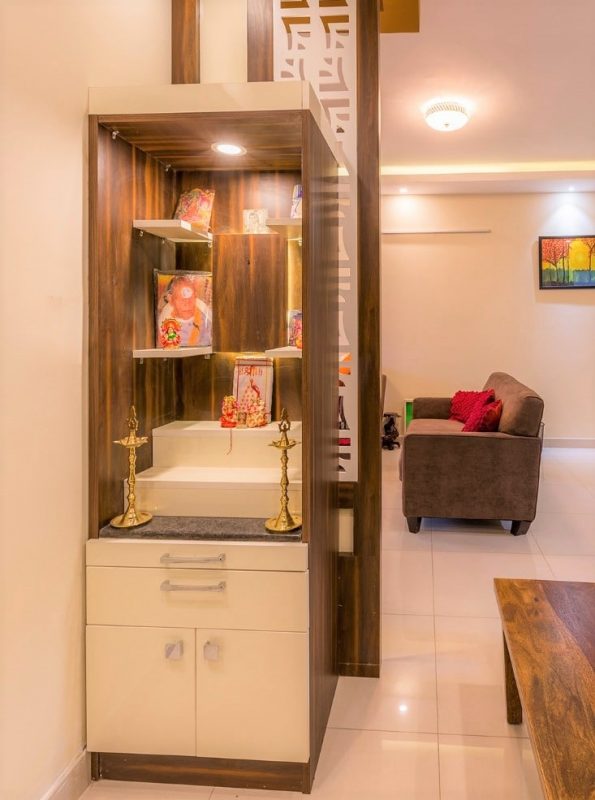 An Indian apartment will look great with this modern cabinet design for a mandir. There are no distractions from the remainder of the straight and utilitarian furniture. For things such as cotton, oil, and agarbattis, use the closed sections of the cabinet while the open section serves as your mandir.
2: Simple marble pooja mandir designs for home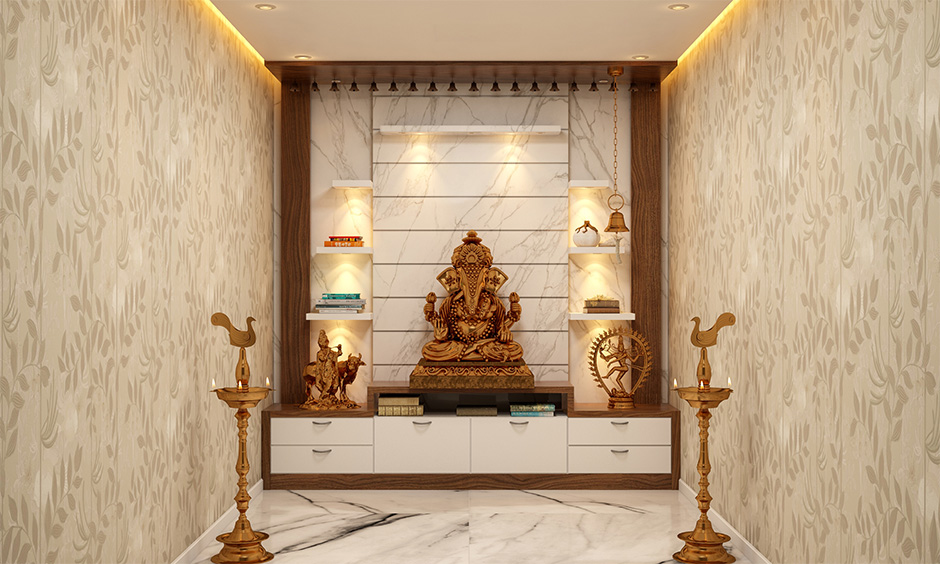 As the title suggestThose who can afford it and appreciate its intrinsic value will want to centre their entire mandir around it. Marble mandir design includes a frame with intricate carvings, pillars, and motifs that enhance the beauty of this chalk-white material. It is possible to incorporate vibrant colours like red, yellow, and green into your designs through carvings and motifs. Brass god idols adorned with fresh flowers and homemade delicacies as offerings complete the stunning marble unit.
3: Pooja room with MDF jali design for mandir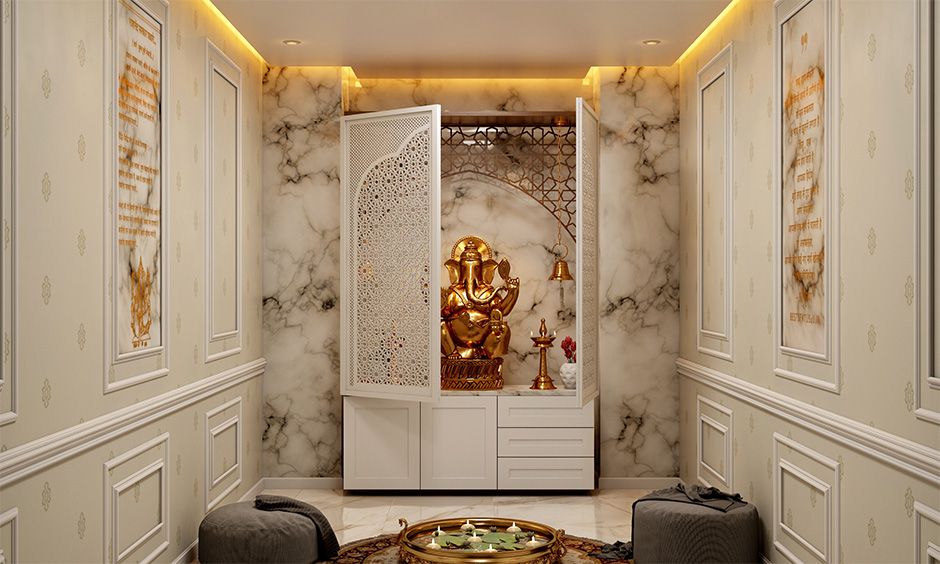 Pooja unit doors look best when they have interesting design features, which creates a barrier and provides a peaceful place for devotion. Wood, glass, metal, MDF, laminates, and even a combination of glass and wood can be used for the door of a pooja room. A Pooja room with a backlit shrine, intricately detailed doors on both sides, and idols placed on marble seating emits a lovely, serene energy because of its compactness and character.
4: Marble design for pooja room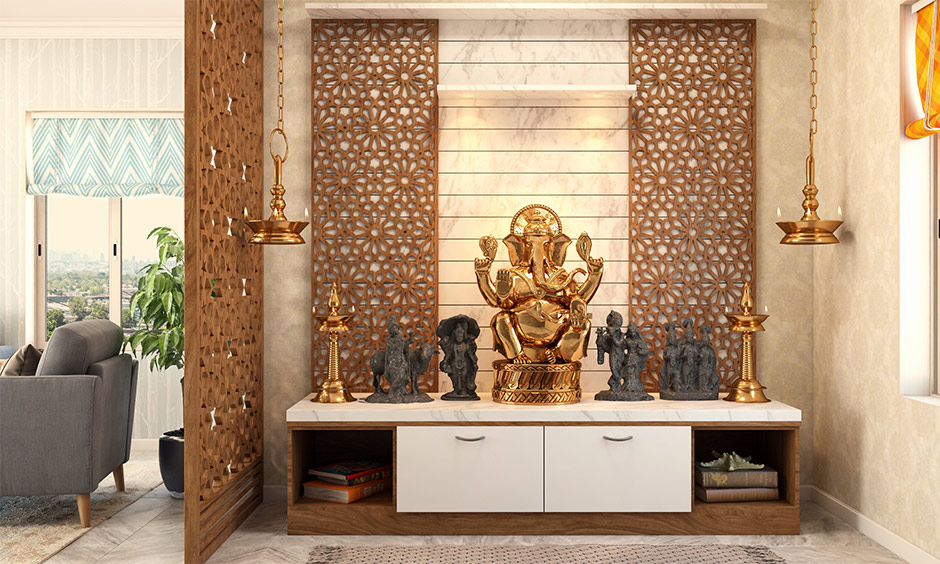 Marble-topped mandirs are a great option for those on a budget, but they're also incredibly beautiful. A marble top is a great option for small homes that don't have room for an entire marble unit. This marble mandir design for the home is easy to clean and maintain, and it can also be customised to meet your family's daily pooja requirements. A row of wooden drawers is built beneath the marble top to keep the pooja area clutter-free. Interior Designers in Noida opt towards creating a space for this variety of Pooja room either in your living or dining space that is bestowed with adequate space. Soft ambient illumination and a pair of diyas hanging on long chains can give an added impact to it.
5: Traditional Mandir Design in Star Shaped White MDF Jali Door Design
If you favour a nature-inspired room, add a touch of green to your Pooja space with plants and plant holders. Before installing the plants in the tranquil area, make sure your Pooja room has bright skylights to help your plants' growth and survival. With decreasing green spaces encompassing us, this concept of utilising natural components to enhance the area is here to stay.
6: Small Pooja Room Design In Apartments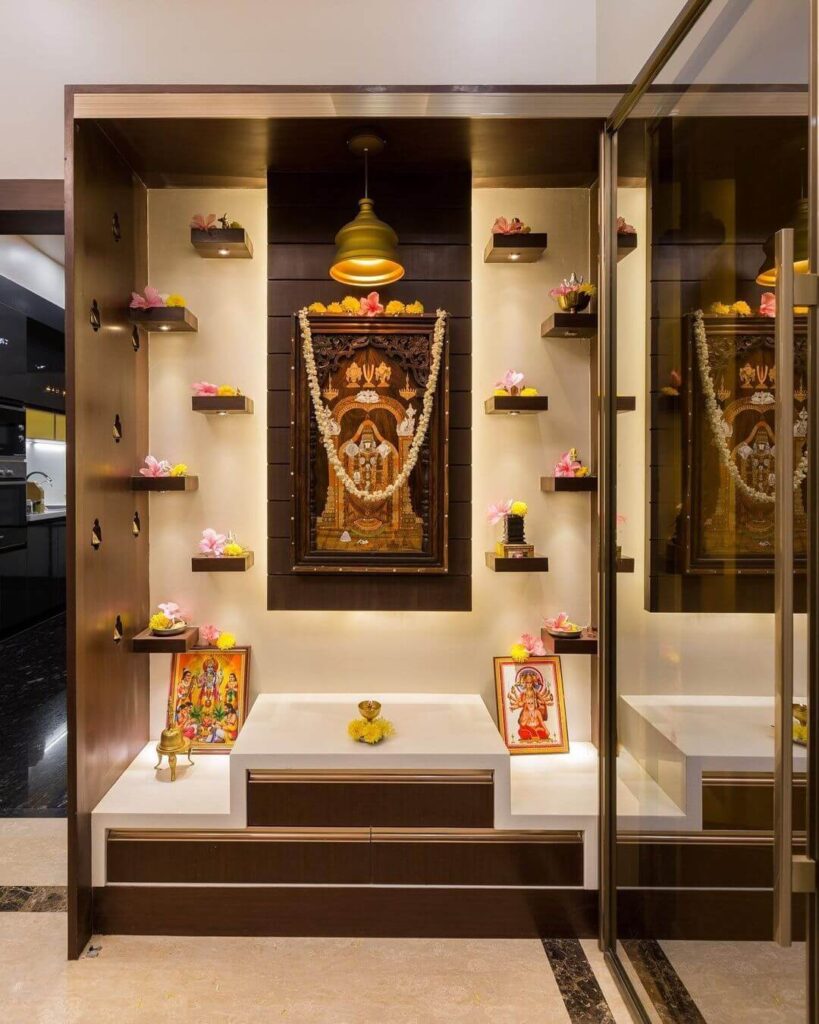 With a marble top, marble mandir designs are a low-cost option that is both plain and beautiful. This could be a new way to design temples that don't use marble. A marble countertop is a great option for small residences that don't have enough room for a full marble unit. Cleaning and maintaining this marble mandir is a breeze. In addition, it may be tailored to your family's daily puja needs. Underneath the marble table, a row of oak drawers accommodates common puja items and keeps the area clutter-free.
7: Wooden pooja room design in 3BHK Apartments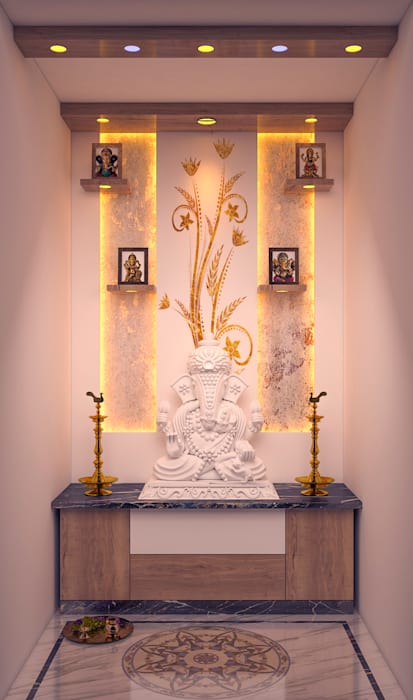 8: Pooja room Design / Mandir design ideas with dimensions
This is a handy design with dimensions to create one of your own.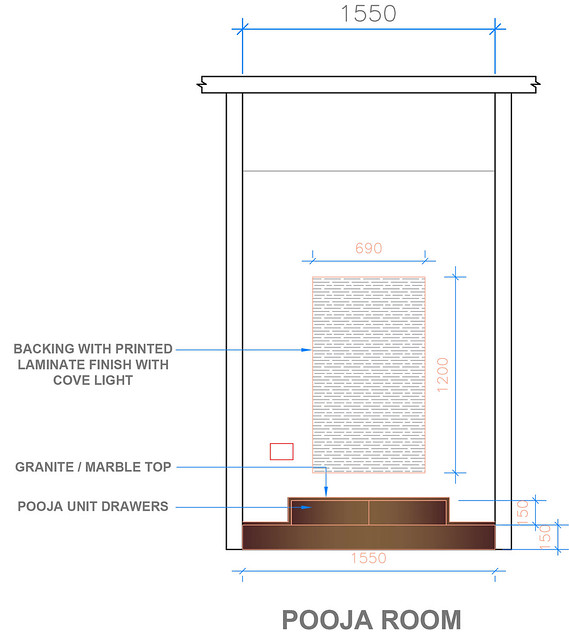 This Pooja room design is intended to clear up any confusion you may have regarding the dimensions required to build a basic puja room, as well as the materials that are typically employed.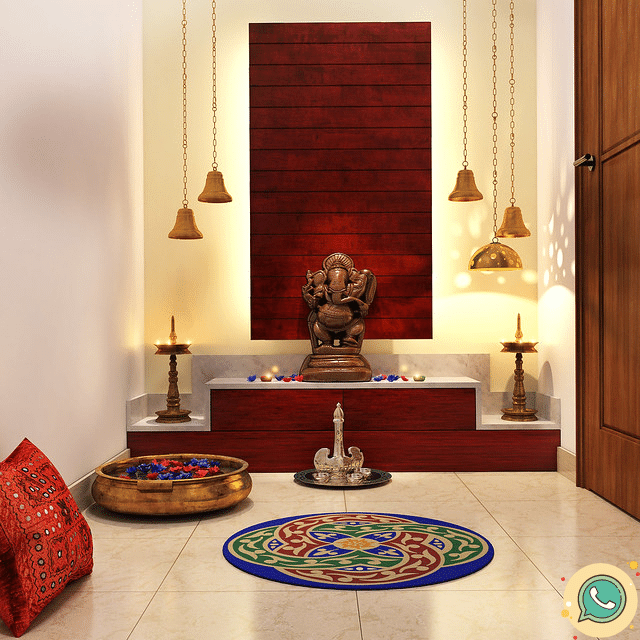 Whatever your religious or spiritual beliefs, having a peaceful, clean area in your house where you can meditate or pray can help you achieve inner peace. I hope these concepts will inspire you to create a sanctuary in your house where you can disconnect from the digital world and recharge your batteries.
Frequently asked questions:
For a pooja room, what are the best materials to use?
To create a beautiful pooja mandir, the most commonly utilised materials are sandstone, marble, granite, Wood, Glass.
You can even mix and match any materials to create your own house pooja room design.
What Is the Best Flooring for the Pooja Room?
The floor of the pooja room should be chosen carefully because most of us sit on it. The flooring material has a significant impact on how easy it is to keep clean.
Some of the best pooja room designs flooring options are as follows.
Marble
Wood
Granite
Cement Tiles
Ceramic Tiles
Vitrified Tiles
What Colors Should I Use in My Pooja Room?
The colour of your pooja room plays a crucial function in making it stand out from the rest of your home. Choosing the proper colour for a room can also have a positive and warming effect on the rest of the house.
You can experiment with these colours in your pooja room design:
White
Red
Yellow
Orange
Blue
Green

Opt for Classic Infrahomes, our team of professional interior designers in Noida, work with you to create practical spaces that are solely aesthetic. For more Pooja room designs, stay tuned for more from this blog space.