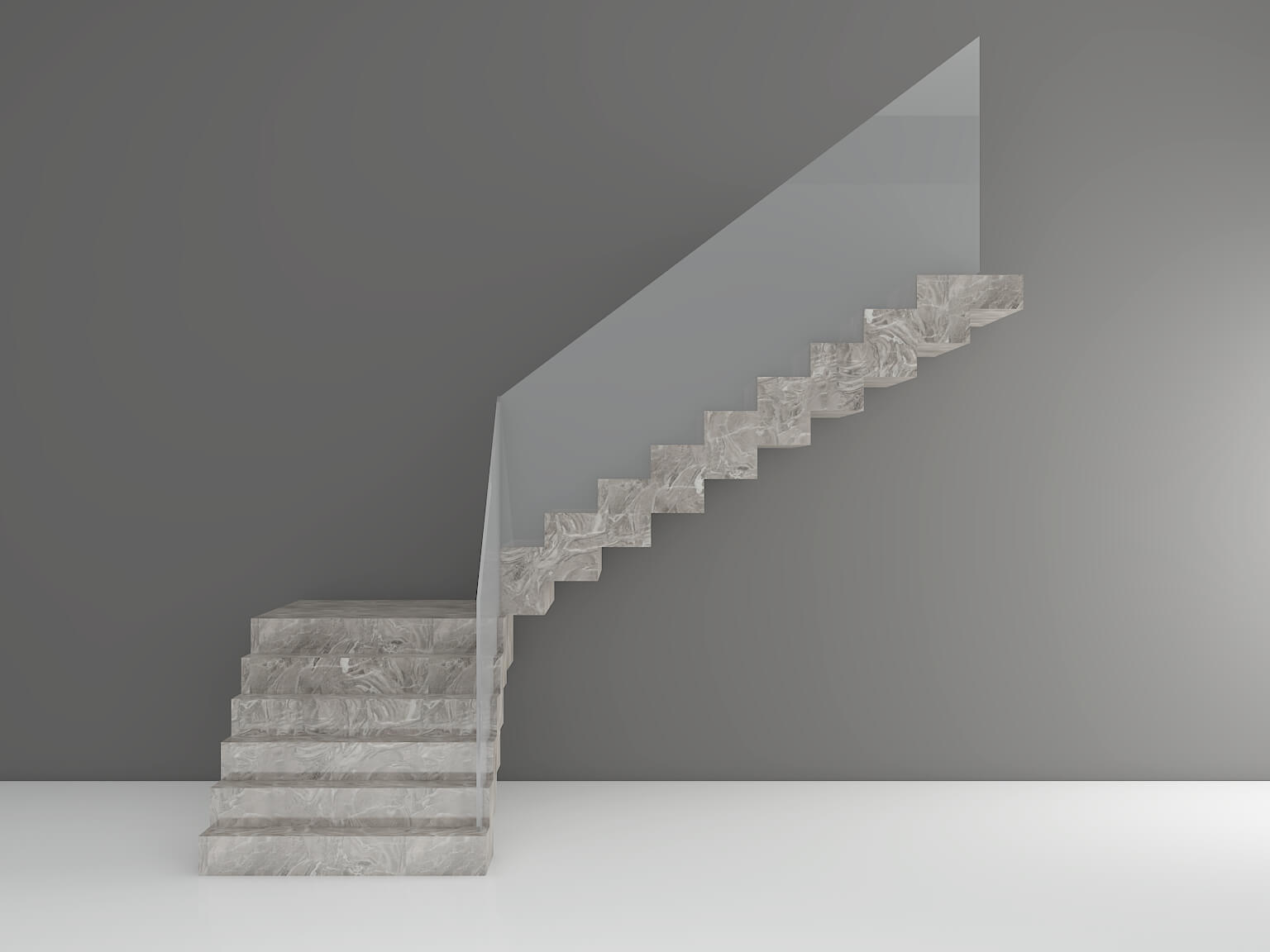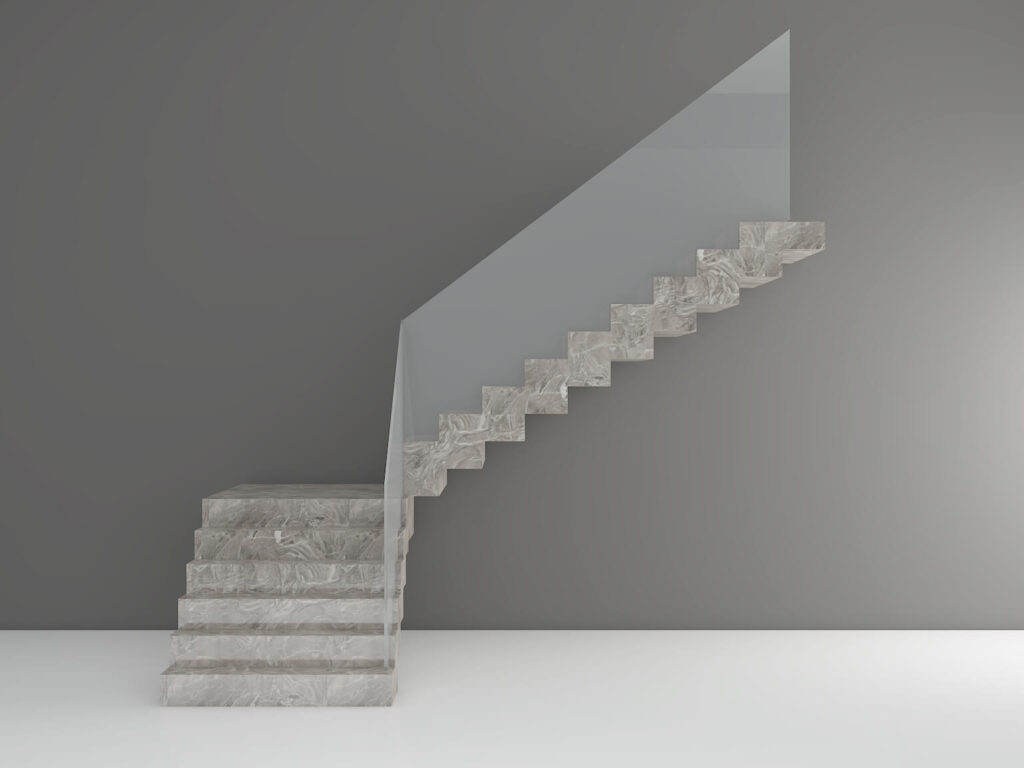 Marble Staircase
Marble Stairs and Stone Staircases: Elegance and Beauty for a Lifetime
Marble Stairs, Stone Staircases, and Granite Stairways are always full of character, elegance, and style.
The Marble Staircase, sleek and valuable, has never stopped evolving over time. Interior Designers are always given a great way to express their vision and creativity by combining the exclusive Classic Style with the latest design trends.
Stairs not just give you access to move between different levels of your house, it plays an important part in elevating the look of your home. A flight of beautifully designed stairs creates a bold statement to the entire room interiors. And when it comes to adding grandeur to your living space nothing can beat marble. So, here we bring you some marble stair designs that will add a beautiful edge to the elegance to your home.
Black Italian marble Staircase Design
Blak Italian marbles Stairs designs are highly sought after due to their richness and brilliant texture. The stairs of Italian marble design can add a luxurious touch to your home when combined with designer railings and appropriate lighting.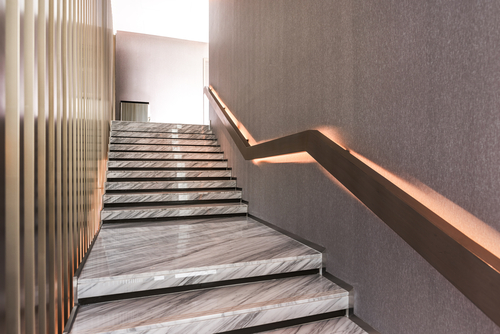 Wooden Railings on Marble Stairs
Marble lends an elegant look to your home interiors but they are extremely porous and can be slippery so combining marble flooring with wooden railings can be an intelligent choice. Wood adds a warm and rustic tone to your home and reduces the risk of accidents caused by wet floors. Marble adds a striking contrast with your interiors while wood matches seamlessly with your wall cabinets, furniture and wooden doors and windows. Try this combination to add a vintage look to your modern home.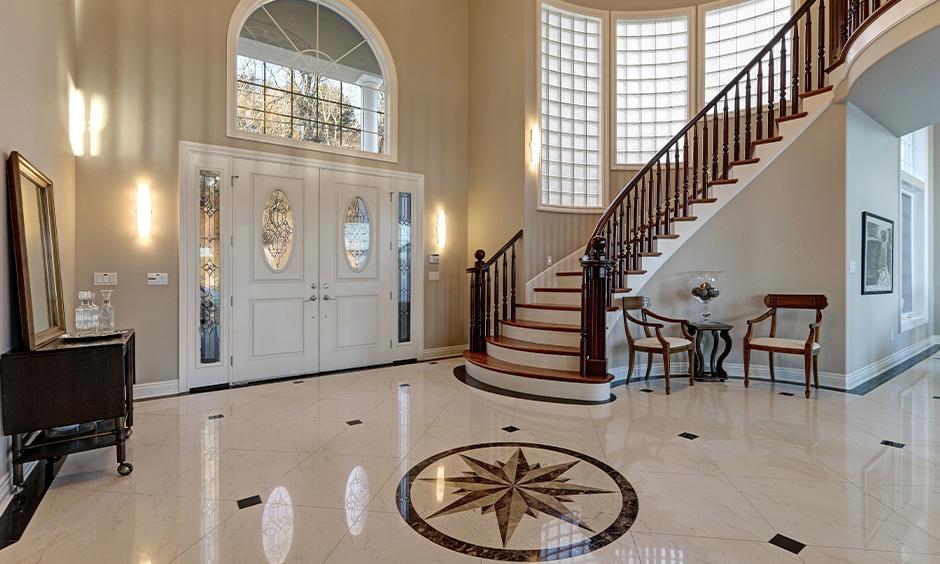 Trending home stairs marble design
A flawless white marble staircase can never go wrong when it comes to creating a spacious look for your home. To illuminate the space, add lighting fixtures to the décor. You can look into white marble varieties such as Italian statuario marbles, opal white marble, and stair design with white marble.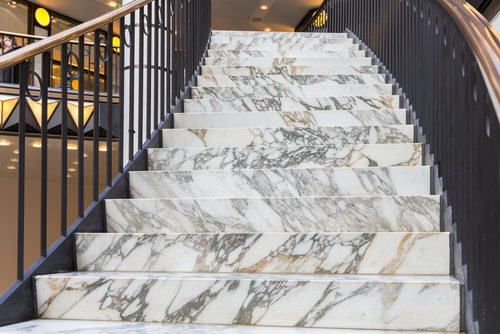 Black Marble Makes a Vibrant Statement
If you want to add a bold element to your home's interior design, black marble will do the trick. These black beauties add a decorative touch not only to your stairs but also to the rest of your home decor. Fix a light to the roof of each step for a classy luminous look.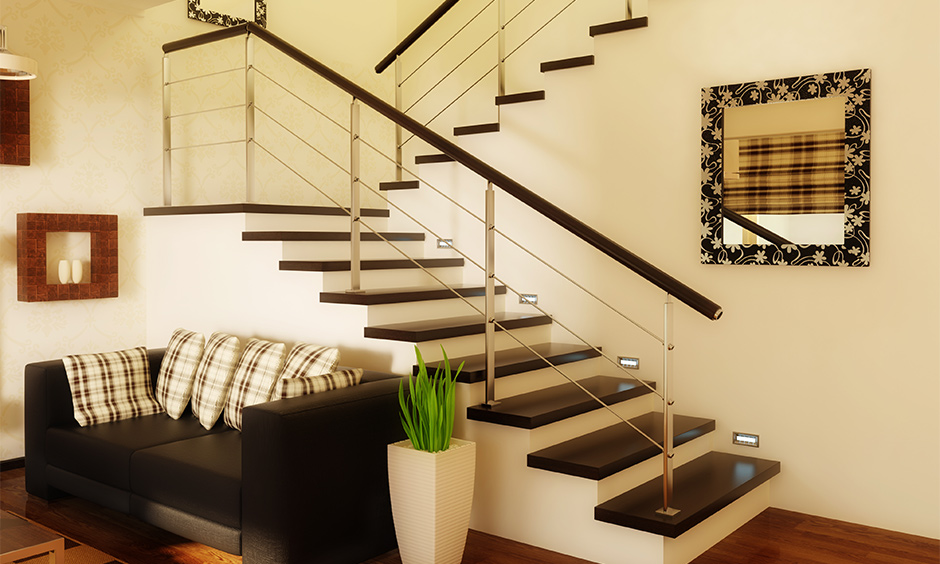 A Modern Stair Design with Marble and Glass
You can choose simple floating marble stairs with glass railings for a modern marble stair design. It gives the home a clean and edgy look while also making it appear spacious and adorable. When it comes to marble for staircases, you have a plethora of options. Glass railings complement any marble, whether Satin Laurent, White Calacutta, or Macael White. So, let your creative side shine and give your home a stylish personality.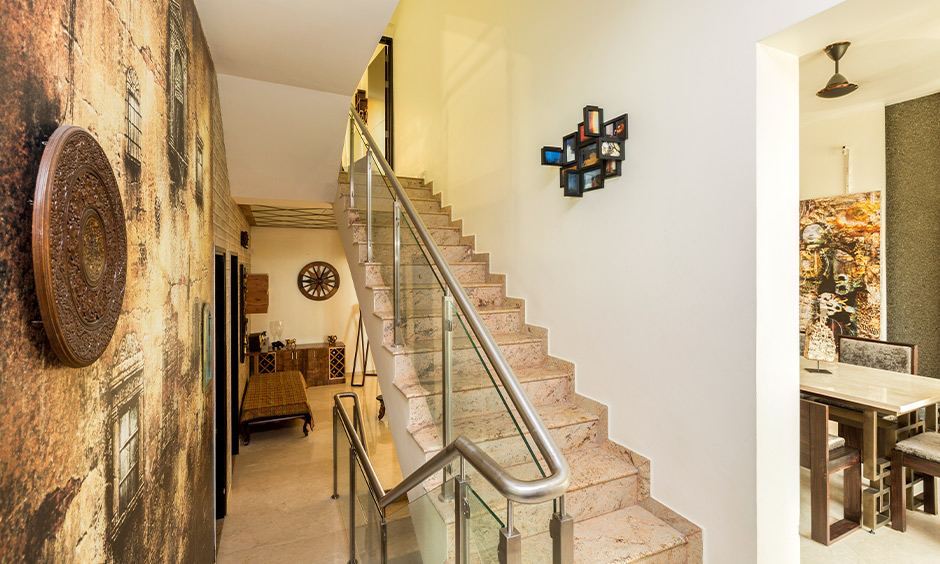 Dual-Tone Marble Staircase for a Pop of Color
You can take the modern marble stair design to an all-new level of aesthetics by using dual-tone marble. A combination of yellow and black marbles or white and yellow marble are a few of the common choices. You can also bring out your creativity with different coloured and textured marble but try playing around with yellow marble as it lends a soft, warm tone to your decor and is considered good for Vastu as well.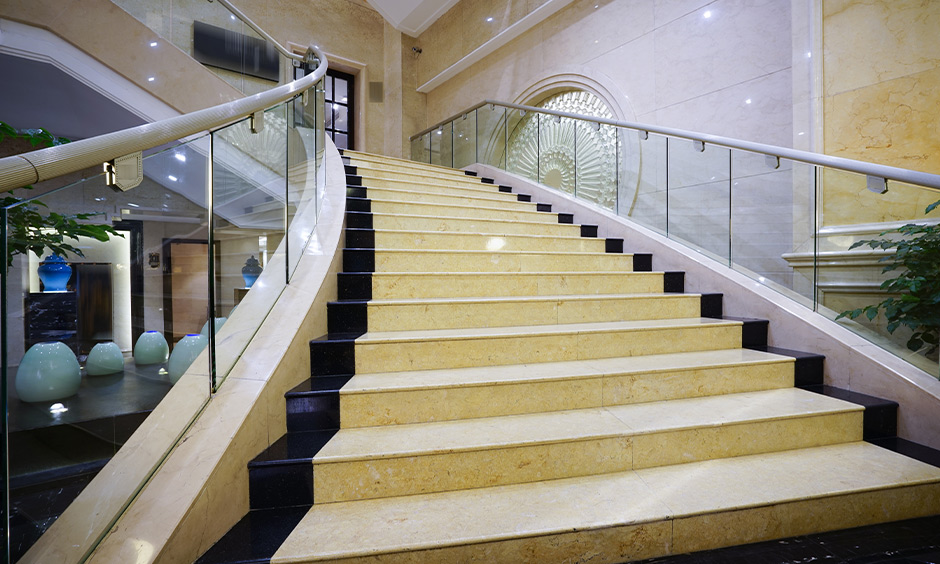 Italian Marbles Adds To The Aesthetics Of Your Home
Known for its delicate veins and a lustrous sheen, Italian marbles are excellent for your stairs. If you are looking for some beautiful Italian marble staircase designs try some lighter coloured Italian marble and pair it with some designer railings for an aristocratic look. Proper use of lighting on your Italian marble staircase will enhance the beauty of your home and blend with your modern home interiors seamlessly.
Adding marble stairs to your house adds a touch of timeless beauty to your modern home interiors. Marble and is porous in nature and not recommended in wet areas. If you want to use marbles for your stairs, be mindful to keep them dry and don't come in contact with rainwater.
Frequently asked questions (Marbel Stair Designs FAQ)
Which type of marble is best for stairs?

In its purest form marble appears in white colours. However, the presence of mineral impurities gives unique colours to marble. The variety of hues provides you with ample options for designing your staircase. Check these stairs of marble designed to add opulence to home interiors.

Are marble stairs safe?

Marble is a material that can survive almost everything and still look decent. Even if something is dropped down the stairs, marble stairs are sturdy enough to survive some of the worst knocks.

Marble is better than granite, but which one is better?

Marble and granite have significant differences in terms of durability, hardness, stain resistance, and pricing. When compared to granite, marble for stairs may require more maintenance and be more expensive.

Which is better granite or marble for stairs?

Granite stone is hard, tough, and long-lasting. It lasts longer than marble.

How much does a marble staircase cost in India?

In India, the price of white marble stairs design can range from Rs 150 per sq ft to Rs 400 per sq ft. Designer marble stairs in India can cost between Rs 900 and Rs 2500 per square foot.

Is marble good for stairs?

Marble is a natural stone that is most resistant to scratching, breaking, and depletion. However, we don't recommend using polished marble, whether it's for floors, stairs, or any other living space, as they do tend to get slippery when wet.
I Hope, this blog could answer some of your daunting questions on staircase design ideas. If these marble stairs design images don't satisfy your curiosity, visit one of our experience centres to choose from hundreds of tailor-made designs according to your needs, preferences and budget.
You can also book an appointment with our designers, and they will help you with a beautiful marble stair design that matches your home's interiors and decor with all safety measures in place. For more blogs to beautify your home, visit our blog section now.