Explore Amazing Duplex Home Interior Design Ideas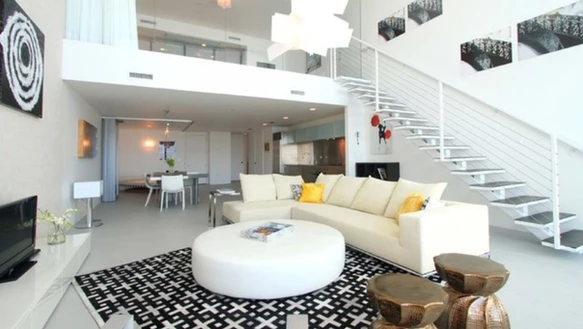 A duplex home is unique and magical. The thought of using the stairs to reach another level makes it exciting. The most impressive aspect of the duplex home's interiors is the perfect balance of beauty and functionality. As versatile as duplex house interior designs are, it needs good planning and creativity to bring everything together. Designing and decorating these elements must be done with care. Our luxurious interior designers in Noida for the modern duplex home interiors with a global point of view have given clever tips, and ideas have been elaborated below.
#1: Staircase Brings Stylishness in Duplex Home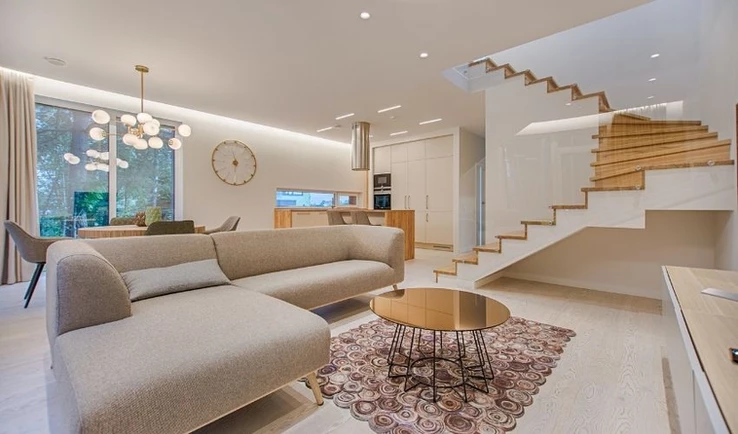 The critical point of connection between the two floors in a duplex home design is the staircase, so living room interior designers in Noida often call it a backbone of a Duplex home. The staircase should not be seen as just a means to go upstairs and downstairs but also as the focal point of your room. When decorating this space, you could use wallpaper, paint it a contrasting shade or light it up differently.
#2: Small Duplex House Design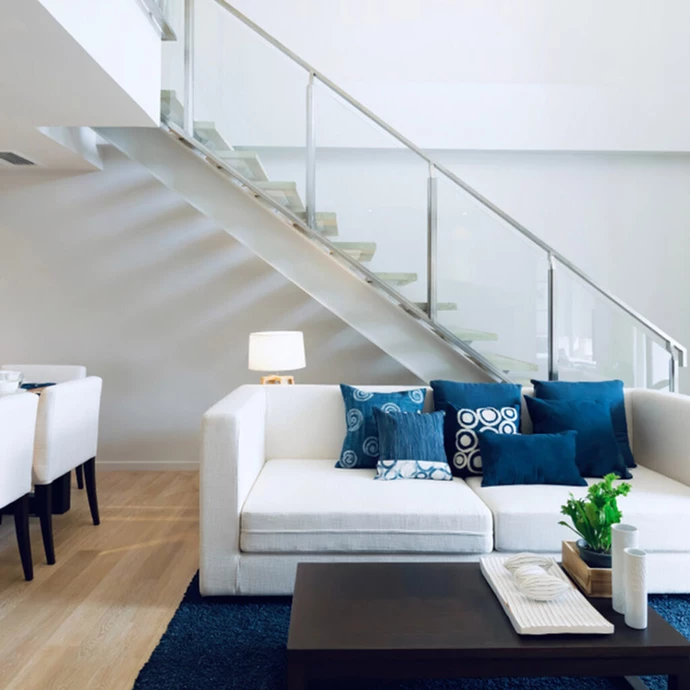 Many Most of these design inputs also apply to small duplex house designs. Because of space being a premium, the idea here is to make rooms appear larger, let in more natural light, open out your space to balconies and gardens, and merge it all. Duplex houses have many different ways to bring greenery indoors. From large window sills to small sit-outs, living room indoor gardens, to staircase landings, clever designs can transform the look and feel of such spaces.
#3: Keep Duplex House Interiors Green into nature.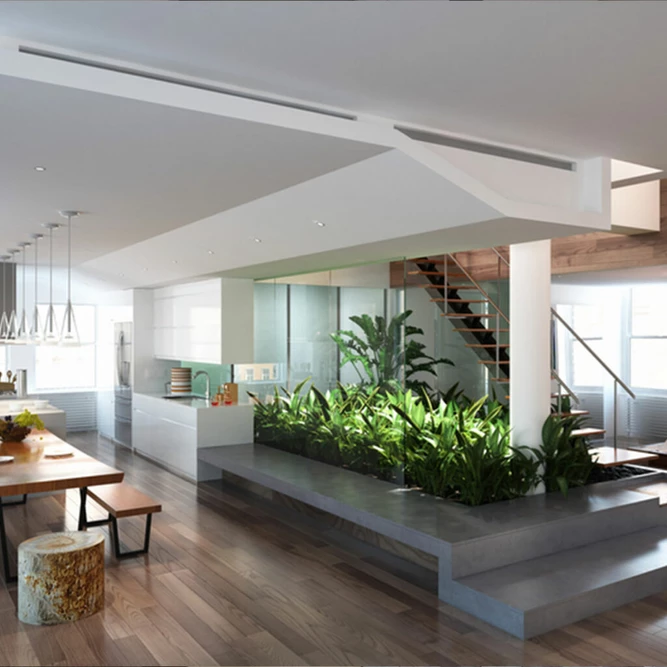 When we think of a duplex house interior, our first thought is a staircase. And in this contemporary duplex, our designers have made the best of it! The green patch delicately complements the brown wooden tone of the steps, adding a touch to their home. The glass panelling and wooden handrail top the simplicity of this design. It's very 'here and now in terms of style, adding an element of vogue to the home. Moreover, all the turfing and plants are artificial, so it's very easy to maintain.
#4: Use Partitions in Duplex House Wisely
You can create an elegant look in your living room and other areas with partitions for your duplex house interior. In fact, with ingenious ideas, the partition can become the focal point of the room. When it comes to partition designs, wood is a preferred choice. Wooden partition is more than just functional panels dividing the rooms. It is a beautiful way to embellish and fit perfectly duplex home interiors.
#5: Experiment with Duplex House Layouts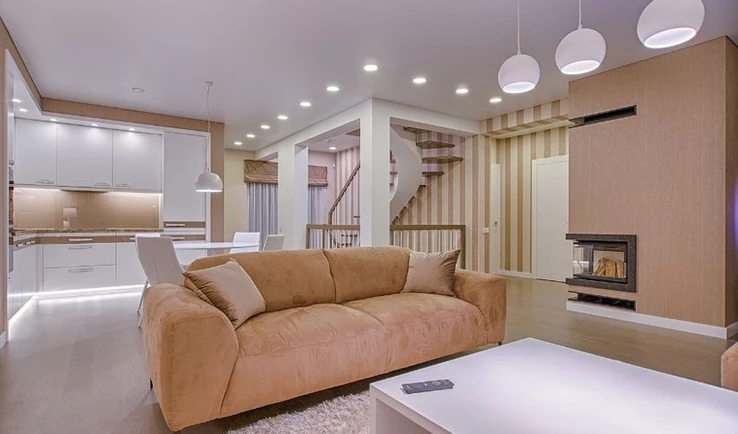 When it comes to duplex house plans and the distribution of functional areas, you might wonder how to segregate the living and private spaces between the two floors.
Here are a few exciting and stylish layout ideas to make your duplex home awesome.
Make the staircase a focal point
Try open-plan dining-cum-kitchen
Establish a connection with the rest of the home
Make A Central Point As The Heart Of The Home
A Double-Height Wall To Display A Large Artwork
#6: Decor your Duplex Home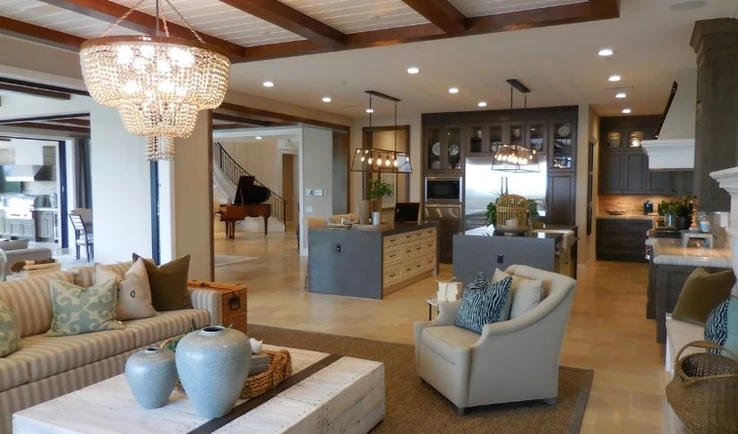 Choose the right-sized furniture: The furniture you place in the living room should maintain its shape and be comfortable.
Dress up the walls: A large piece of artwork is the perfect way to dress up a tall wall.
Pick the right window treatments: Layering window treatments is often the best way to maintain privacy and let natural light in.
Add a touch of green: Plants add a natural elegance to a living room.
Here's what You Need To Know About Duplex House Interior Designs
The Pros and Cons of duplex house
Duplex Home Privacy: No one has been ever disappointed with more space. Duplexes promise complete comfort for the residents. The house plan comes with high-end specifications and large spaces that could include gardens or open courtyards. Some duplexes even have garages.
Accommodation for two families: Duplexes are ideal for living with another family, like with grandparents. You could let your friends or extended family members stay with you in one of the two apartments.
A Good Opportunity for additional income: If you are a small family or don't mind the additional income, one of the duplex houses can be let out on rent or used as an office space. Duplex is especially beneficial when you have purchased the property on loan. The rent you collect could repay the loan. Since the two units are well-equipped with separate kitchens, bathrooms, and entrances, duplexes have excellent resale value and are appreciated faster.
Cons of duplex homes:
Maintenance is the owner's responsibility: Being the owner of the entire building, supervising maintenance and repair works is the landlord's responsibility, including its expenses. If not professionally managed, duplexes may not guarantee the pleasure and comfort you are looking for.
No guarantee on rental income: Tenants are temporary. There is no surety on how long the renters would stay. This uncertainty can affect the steady flow of rental income.
Frequently Asked Question
What is duplex house in india?
A duplex house is a residential building constructed on two floors. It has a single dining room and a single kitchen. It has a typical central wall and two living units, either side-by-side or two floors, with separate entries. While there are two floors, it is sold together and owned by an individual. It may have separate entry points for both floors.
In India, duplexes generally have a kitchen, hall and bedrooms on the lower floor. In contrast, the upper floor houses the master bedroom. A duplex always has two floors and never three or four floors, in which case it would be called a multiplex.
Is duplex house expensive?
Currently, in India average cost to build a duplex sits between ₹4,515,446 – ₹12,326,251, with actual expenses depending on the state, local real estate market, and buildout specifications. The average cost per square foot of a duplex builds presently hovers between ₹2,351 – ₹7,682.
Is duplex house good?
Duplex houses are good investment options and have more benefits to offer than apartments or villas. Duplexes promise complete comfort for the residents. The house plan comes with high-end specifications and large spaces that could include gardens or open courtyards. Some duplexes even have garages.
A duplex house is different from a regular apartment. Both levels have to be meticulously planned and designed by expert interior designers in Noida. Classic Infrahomes is the perfect interior design firm in Noida that can help you greatly in this regard. Happy homing! 🙂