There are a lot of ways and different ideas to decorate your home for Diwali. Use a combination of lights, diyas, rangoli, flowers, candles, urlis, and other items. Please read our blog post for some ideas.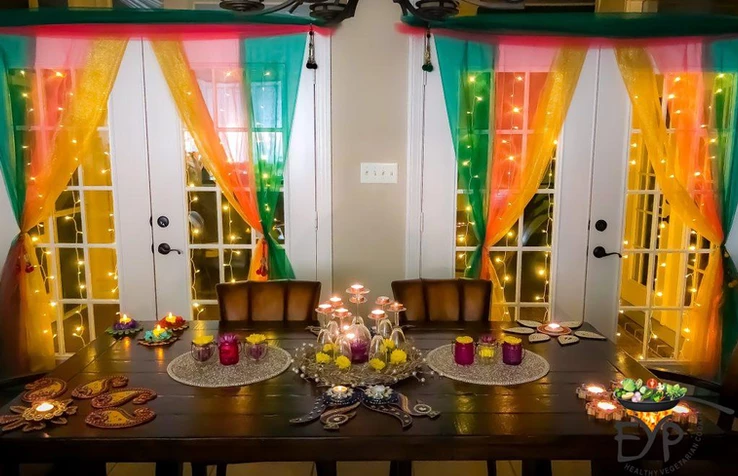 Diwali is just around the corner, and it's time to celebrate everything that is good in your life! Lighting is the essence of this delightful festival that is celebrated in every town and village across India. We share with you some lighting ideas to brighten your homes this Diwali and welcome the Festival of Light to your homes with some captivating sparkle.
In Hindu tradition, Diwali is that time of the year when our artistic capabilities come to the forefront. Make sure this Diwali, your home decor attracts good fortune and joy. Here are some of the best Diwali decorations you can liven up your home!
Diwali is just around the corner and its onset sparks feelings of joy and festivity within each one of us. As you read this, you must be getting your beautiful home spring cleaned, polished and painted for this festival of lights. Your grandmother's recipes for home-made ladoos and pedas time will be out, and ready to be prepared in batches as you send out blessings to friends and family. And the most fun part of Diwali is getting our homes ready with elegant decorations. Here is Classic Infrahomes ready reckoner of traditional Diwali decoration ideas for your home.
Diwali Decoration Ideas For Your Home in 2021
Mirror, mirror on the wall: Present an enormous mirror in your front room. Mirrors elevate spaces and make your room look large.
Goldrush: Gold is a lovely colour scheme for Diwali theme decoration. Your diyas, lanterns, fairy lights and idols can all have a gold finish.
Get creative with cushions: Cushions are versatile decor items. Mix up cushions of different colours, sequins, beads and the like.
Rug it up: Something as straightforward as changing your floor covering can have a colossal effect. Rugs revive rooms in a jiffy. Else, opt for dhurries with traditional motifs. It is an easy Diwali decoration and can be used throughout the year too.
Light up your life: Best Diwali decoration ideas are incomplete without lights. Fairly lights are pretty affordable, and you can scatter them around surfaces and window sills. Else bundle them up inside glass containers, crystals or any holders for a staggering impact.
Flower power: Flowers add freshness and colour to rooms. Traditional Diwali decoration is synonymous with blossoms. Please place them in a vase on your coffee table or even in a bowl of water with a light tea candle floating amidst
Tea lights for festive glow: Tea light votive holders are a creative Diwali decoration idea too. Place a pair or a cluster of several on side tables, your main entrance or the dining table for a festive glow.
A herby affair: Decor apart, your home needs to smell festive too. Kitchen herbs like star anise, cinnamon, cloves are aromatic and can be mixed up with dried petals – that's your DIY potpourri.
Diwali Decoration Ideas To Make Your Home Bright
1: Introduction to Diwali Decoration
An essential part of the celebrations, Diwali is celebrated with fervour and zeal by people of every religion. It is a time of colourful lights, bright colours and dazzling lights, where colours and flowers come together in one. Before the festival, get your house ready by having your windows washed, your well-wrought pathways cleared and thoroughly cleaned, dousing the entryway with fresh sandalwood paste, and greasing the door-knobs and the door-knobs and washing the doors, windows, back door and balusters on your staircase. Maintain all the windows in your house to keep the house warm and cosy.
Light the lamps in each room and make sure you have flowers and a silver diya in each room.
Lighting the Diya
Before decorating the home with lights, you need to know the exact time you need to light the diya. Diwali happens in the dusk so if you don't light the diya before dusk, it won't give the desired impact. Therefore, be careful not to decorate the diya on days when there's no moonlight to illuminate the diya. The usual lighting times for diyas are:
The diyas should be much bigger than the usual ones. This is because they have to stand up to all the decorative work.Tall diyas with beautiful designs are ideal choices for the festival of lights.
Dressing Your Home for Diwali
Diwali brings back many beautiful memories and brings about a sense of the festival's happiness. If you are looking to dress your home in a way that shows your love for the festival, Diwali decorations are the way to go. With just a handful of fresh flowers and some bright, fresh colours, and glowing lights, you can deck up your house with elegance and grandeur. Here are a few ways to get you started.
Take a small box, fill it with a handful of fresh flowers and get your terracotta lamp lit. Place a bunch of lights in the box and place it on your terracotta lamp. Then take a small plastic container and cover it with fresh flowers so that it can fill up your house with fragrant fragrance. Get some empty votive plates and fill them with flowers, and get the candles lighted.
Diwali Festive Food and Flowers Ideas
Diwali is all about food, friends and family, so you must know that your cuisine has to be loved by the people sharing the day with you. So, add little decorations that match the central theme of the day and let your guests find their place among the delicious food and flowers. Food is an essential part of any celebration, so ensure that your food has to be symbolic and extravagant. For Diwali, you must look for floating decorations that represent lights rather than traditional decorative ones. While planning your festive meal, make sure that your guests also leave with a smile, rather than wondering what else is going on in your kitchen. Diwali decorative table centrepiece ideas will suit your function and make you stand out.
How to Decorate Your Home with Traditional Indian Design Elements
Let your Diwali celebrations be free from all the traditional firecrackers and illuminations. Bring in some natural elements in your home and decorate them with seasonal flowers. As per Indian architecture, the place where much natural flora grows would have the maximum number of flowers as the size of the florist garden increases. Add some bhang (literally, weed) in the garden to enliven the environment.
Diwali Decoration Ideas: Indian Flame Trees
Diwali Lighting Options
The most popular option for lighting up your Diwali celebration is the Kandi lamp. Diyas are everyday items of lights used to decorate the village for festivals of all kinds.
Diwali Decorations at your doorstep
The Festival of Lights at home will be decorated with lanterns, diyas and other beautiful lights and decoration materials available in the market. Depending on how much time you have, you can either opt for local crafts or buy them from the market.
Decorations at home
Apart from the lighting, Your home can be beautified with diyas or candles in the courtyard, and soft lights and the aroma of the lemon flower perfume around the house. If you're not good at decorating the place with lights, you can always choose the colourful lanterns or light your house with the illuminating diyas, strings of lamps or the tambourine diyas or wooden ones.
Multicoloured lights are a massive hit with the home decor industry, and they make a big splash every time one goes for Diwali shopping.
Kitchen ideas for diwali decoration
Diwali is the time to bring back the good old traditional 'Laddu', 'Sharab', 'Vajji', etc. Recipe cards with gorgeous images and unique names of these unique sweets, available at home, can be hung at the entrance of your kitchen. These paper recipes can be carried out in classic bindis to greet your guests.
Home decoration
A very traditional touch to Diwali decoration is a candle holder or a small diya that lights up in the bedroom on Diwali evening.
Another crucial Diwali decoration that is taken very seriously is that of stringed lights. This is an integral part of Diwali decorations and decor in Indian households. An astonishing array of lights and diyas are usually employed in a plethora of designs.
Outdoor Fairy lights Diwali decorations Ideas
Celebrate the festival of lights with a bang and add that extra bling to the living room with a stunning floor to the ceiling mirror frame. The mirror frame with parrots creates the perfect combination of light and dark, giving your living room an elegant look. The mirror frame will also act as a backdrop for your Diwali diyas and lanterns. This vibrant blue colour will bring a joyful Diwali vibe to your living room. Add a delicious Diwali- the festive window decor will bring life to your living room. Blue signifies the colour of money as it is considered to be the colour of success and wealth.
To complete the traditional look of this festive season, add a touch of black and white with tiles or floor to ceiling bookshelf or wall shelves.
Outdoor Fairy lights Diwali decorations Ideas
Outdoor Fairy lights Diwali decorations Ideas
Accessories, fountains
Carborundum and crystals
White lights and gold floral arrangements
Diyas and lamps Dining table
Table decorations Personalized diyas
Low table lampsCandle holders
Lightings Elegant diyas
Christmas tree lights
Traditional candles
Chandeliers Invitations
Diwali greeting cards
Diwali messages
Decoration ideas for diwali at home
Here are some decoration ideas for Diwali at home:
Rangoli: Rangoli patterns are said to bring good luck. You can draw them with rice paste or colored powders.
Diwali floral arrangement: Garlands and floral arrangements like marigold chains or roses work well with Diwali home decoration ideas. The colors of the festival are reds, pinks, orange, and yellow.
Diwali fairy light decoration: Diyas signify elements like purity, good luck, power, and goodness. You can light up your home with diyas.
Candles: Candles have become an integral part of Diwali interior design. They come in many beautiful colors and shapes.
Diwali torans: Torans are used to attract the goddess of wealth Lakshmi.
Fairy lights: Fairy lights or string lights can be used to decorate your pooja room, empty walls, bedroom, or empty window.
Diwali Decoration Ideas : Home Entrance Simple Easy DIY Ideas For Diwali Home Decoration
In this Diwali Decoration Ideas at home (entrance) video I have shared a few ideas on how we can decorate Home with Simple Easy DIY's. Diwali is one of the most celebrated Indian festivals and as a part of home decoration ideas are always in need. It's a very common question for us "Diwali me ghar ko kaie sajaye" So this time you can give your home entryway a brand new look with a little makeover which I have shared. I hope by watching this Diwali Decoration Ideas: Home Entrance Simple Easy DIY Ideas For Diwali Home Decoration video you will get some ideas to decorate your own home for this Diwali. Also, be sure to give this video a big thumbs up and share it with friends and family. This Diwali may ma Lakshmi will bring more prosperity and happiness to your family. Have a happy, safe and sensible Diwali.