For beautifully executed kitchen cabinet renovation, Classic Infrahomes is here to help. Our cabinet makers in Noida years of experience and expertise to satisfy your design needs.
Modules Vs Fully Modular Kitchens
Classic Infrahomes have a standard range of Kitchen Cabinet sizes (modules) that are used to build our kitchens, as is consistent within the custom kitchen industry. What sets Classic Infrahomes apart from modular kitchen companies is that our kitchen range is almost endless. There is no limit to the colour, configuration or size options for the kitchens or cabinetry you choose. In addition, non-standard cabinets that are constructed for your kitchen are not merely "filler" cabinets, they are carefully designed to ensure a professional look and to fit with the sizing of the other cabinets within the kitchen.
Beware of kitchen companies and flat-pack manufacturers that use inferior thinner cabinet carcass material. These will in time strain, warp and degrade faster than thicker more dense materials appropriate for kitchen construction.
Cabinet Construction is made up of a number of parts consisting of:
Carcass
Kick-plate
Strong-back
Face frame
Doors
Drawers (optional)
False Front
Cabinet Carcass
Frameless Vs Framed Cabinet Carcass
There are two types of cabinet frame, face frames and faceless frame. There are opinions on both sides as to which is better. Smith & Smith uses Frameless carcasses for their kitchens. However, clients may request a framed look for stylistic purposes.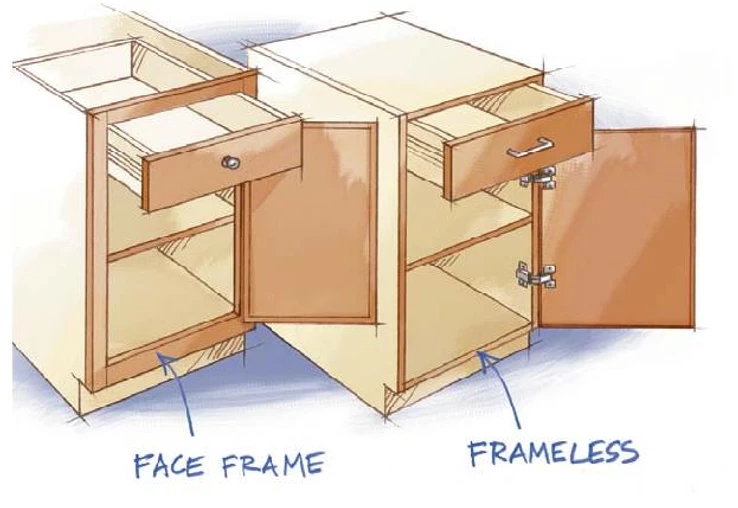 Framed versus Frameless Cabinets
Frameless Cabinets are Sturdier – because the entire box is made from equally solid particleboard, frameless cabinetry is stronger overall and there are no sides that are stronger.
Frameless Kitchen Cabinets are More Accessible – framed cabinets take up valuable space at the opening of the cabinet.
Frameless Kitchen Cabinets have a More Open Interior – because the cabinet box itself serves as the frame, it has fewer braces and reinforcements and thus more space inside.
Frameless Cabinetry Looks Clean and Modern – because it has a slick, smooth appearance, it fits the seamless, flowing design that characterizes contemporary homes much better than face frame cabinetry.
Cabinet internals may have shelves, sliding drawers, lazy susans and any number of other excellent storage ideas, including fold-out ironing boards and spice racks just to name a few. These can enhance your use of kitchen space and ergonomics. Find out more about space-saving and ergonomic options by speaking to one of our specialist Kitchen Designers.
Cabinet Construction Methods
Pressure fitted: Two components are joined together and pressure is applied to ensure a tight fit. By applying pressure during glue set up time it ensures superior adhesion.
Glued: Various types of glues are used to bond components together including various wood glues and hot melts. Proper gluing can yield a stronger joint than wood itself.
Double dowelled: A mechanical joining method in woodworking where a solid cylindrical rod is used to hold two pieces of wood together. The adhesive is used to hold the dowel and the two components together. Sometimes stapling or pin nails are used to further reinforce this during glue set – up connection.
Stapled: A fastener commonly used in woodworking and furniture making. Various types of staples and pins are used in the manufacture of cabinetry. They help join and hold components together.
Nailed: The carcass is held together with nails which are coated with adhesive to create a stronger join.