Are you looking for some design inspiration for your modular kitchen? While there will always be takers for all-white and wood-finished kitchens, you can check out some laminate combinations that will make your kitchen décor pop! Ready to add an element of fun to your kitchen look book? Here are some kitchen laminate colour combinations to get you started.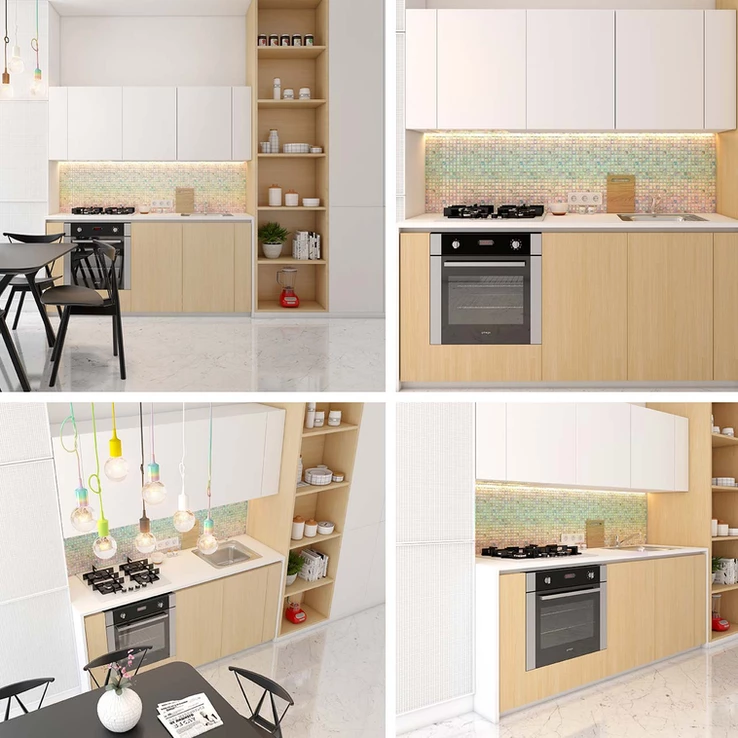 Green and Golden kitchen laminates colour combination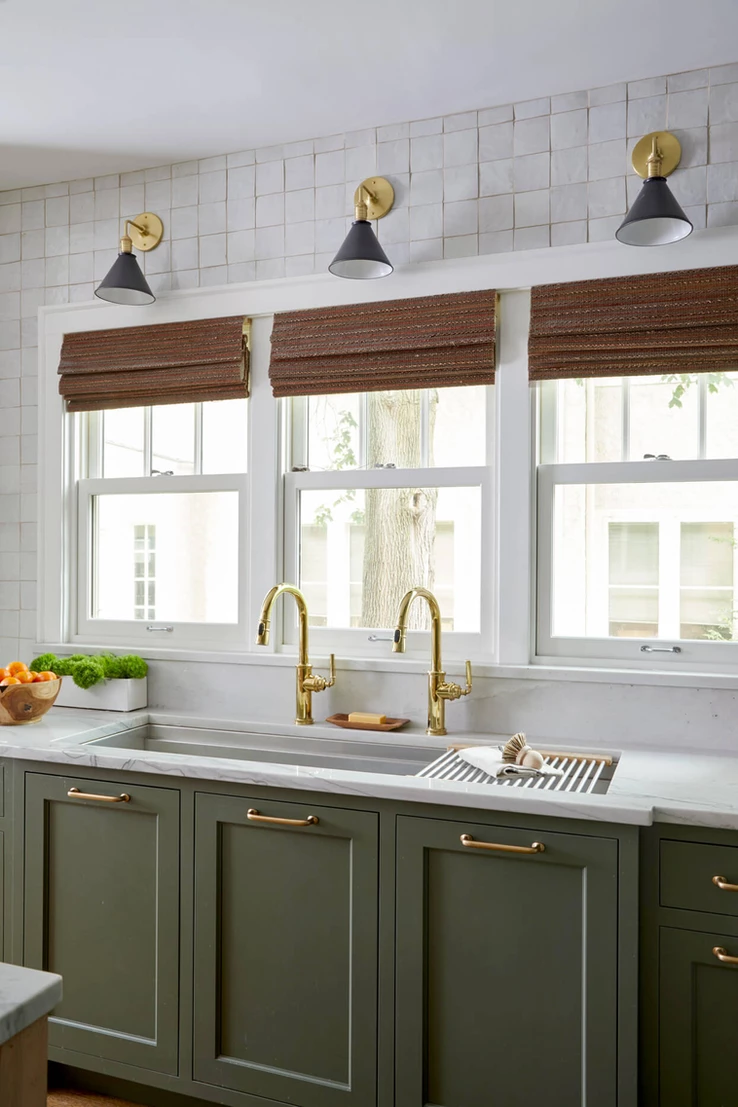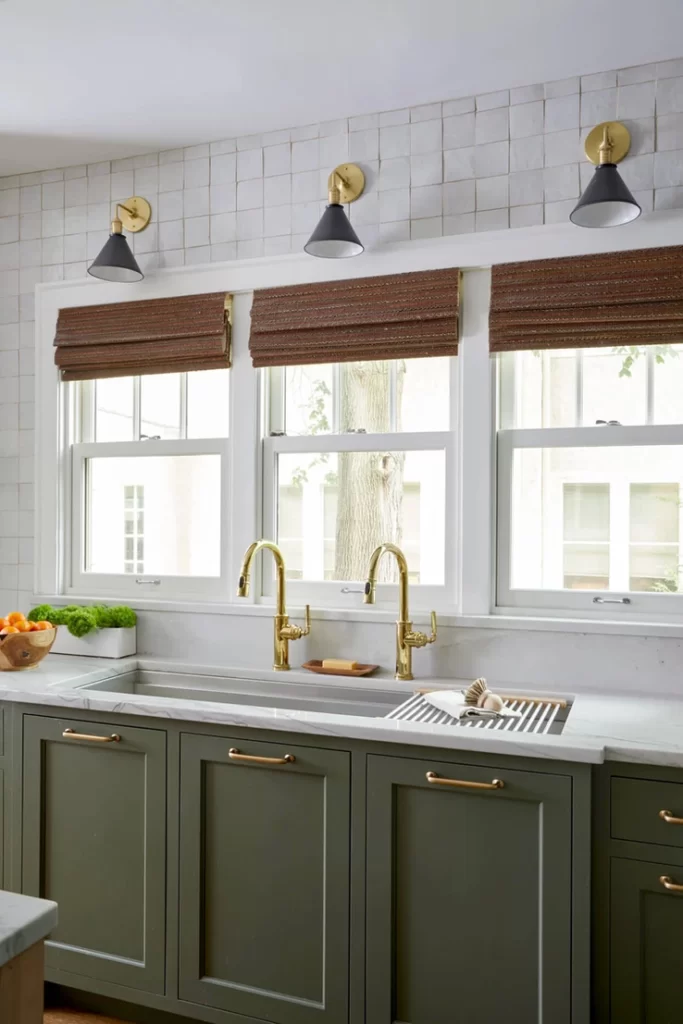 Green and Golden kitchen laminates colour combination when applied in large doses on cabinetry or walls. Brighten up a saturated shade by incorporating reflective white surfaces, like tile and stone, and metallic gold accessories, such as cabinet hardware (Handles), faucet and light fixtures. The Golden shiny finishes will reflect light and add a touch of sparkle to your kitchen.
A White and Yellow of Sunshine Kitchen Design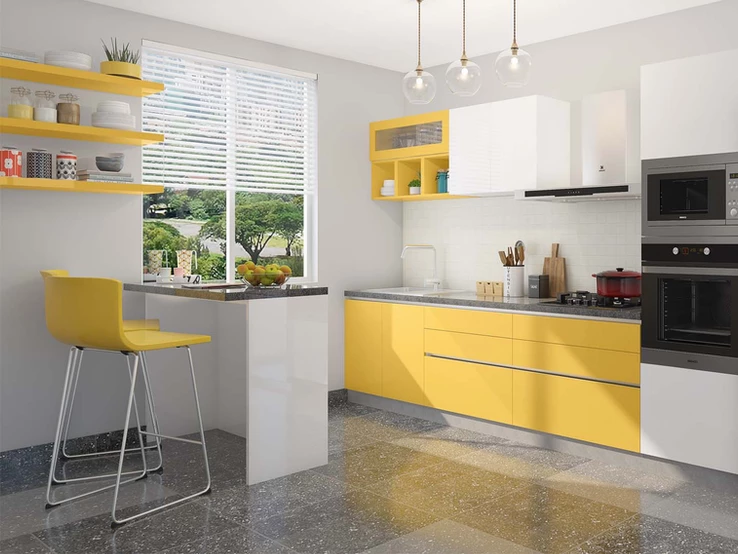 Lite yellow is refreshing and stimulating and evokes images of the sun-drenched tropics. Splash some sunshine on your cabinets for eye-popping flair, and then tone down the warmth with soft, cool white. A combination that always works!
A Warm Yellow kitchen laminates colour combination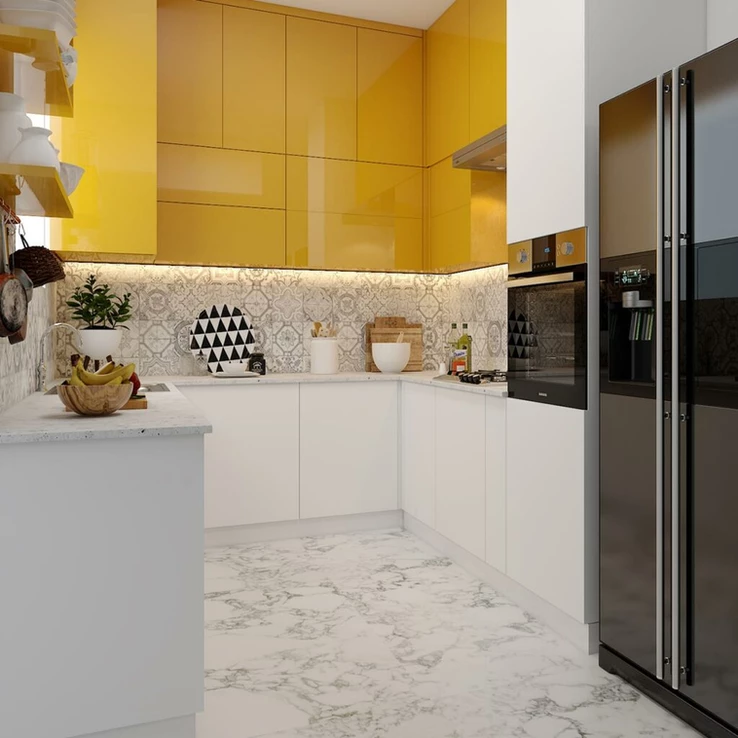 Bring some sunshine to your kitchen with bright and upbeat yellow kitchen cabinets.
Yellow's happiest colour in your kitchen will give you a welcoming feel you need to add your host spirit. The shade allows accessorising your kitchen with hints of strong colours since it is the perfect base for any contrast for kitchen cabinets.
White and Grey Kitchen Colour Combination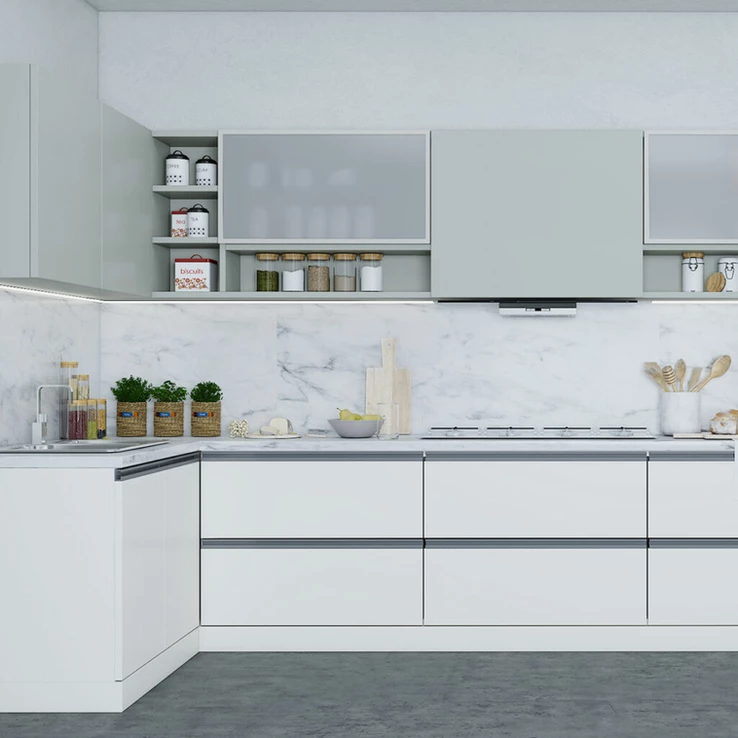 High Gloss White kitchen laminates with colour pop elements strewn over makes for the best ambience. Clean, minimalist and contemporary all the way!
See, kitchens are your statement for a beautifully designed house. Don't let time or budgets hamper your kitchen style. Go for the timeless colours that are here to stay. Cook your favourite recipes, welcome your guests and dine in style. For the chef in you, the host in you and the organiser in you, kitchens provide a large layout to experiment and showcase your style. And the colour palettes mentioned above are time tried and tested. Give them a try and share with us pictures of your kitchens that you are so proud of. As Mario Francesco Batali, an American chef, writer, the restaurateur, said, "The kitchen is the castle itself. Where we spend our happiest moments and where we find the joy of being a family."
Blue and Orange Kitchen Colour Combination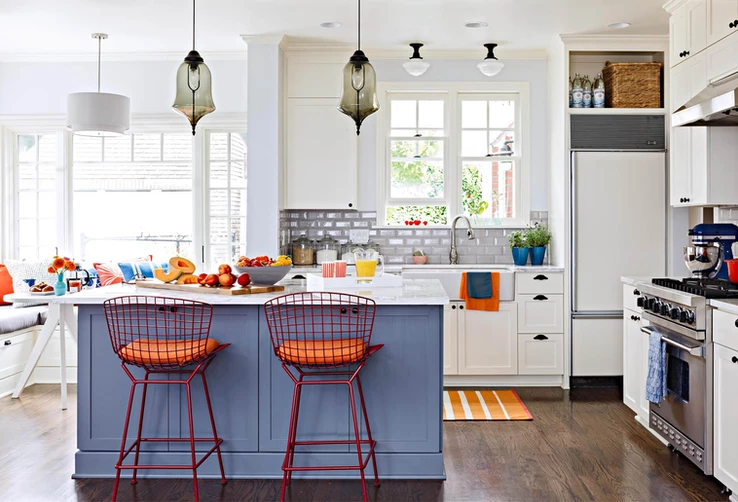 Bring your kitchen to life with this amazing Blue and Orange kitchen colour combination. Directly opposite each other on the colour wheel, bold citrus orange pairs perfectly with soft blue. Both colours complement bright white cabinetry and woodwork, providing a great way to liven up a modern kitchen.
Red and Yellow Kitchen Colour Combination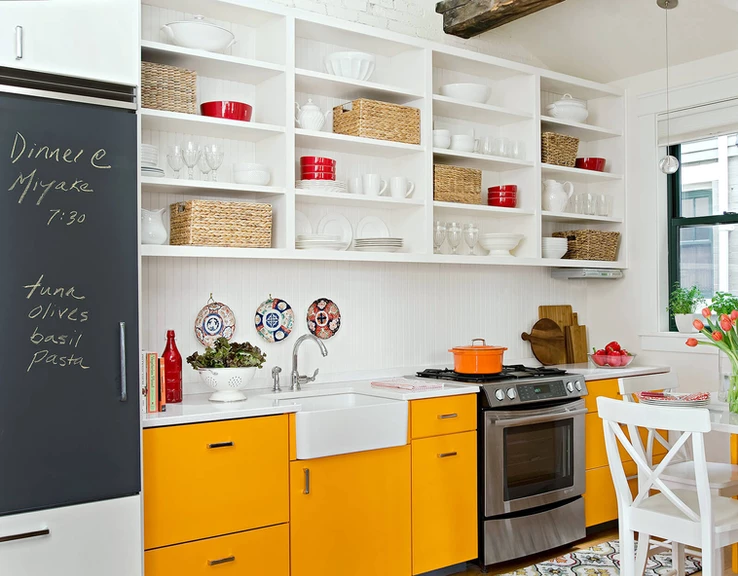 This warm Red and Yellow kitchen colour combination has been popular in Europe for generations and remains popular in modern design today. Pair a deep red with golden yellow to evoke the sense of a stately English manor, a relaxed French country cottage, or a beautiful Tuscan villa. To make your kitchen feel big, use yellow as the room's anchor colour, then add red accents to punctuate the design.
Red and Black Kitchen Colour Combination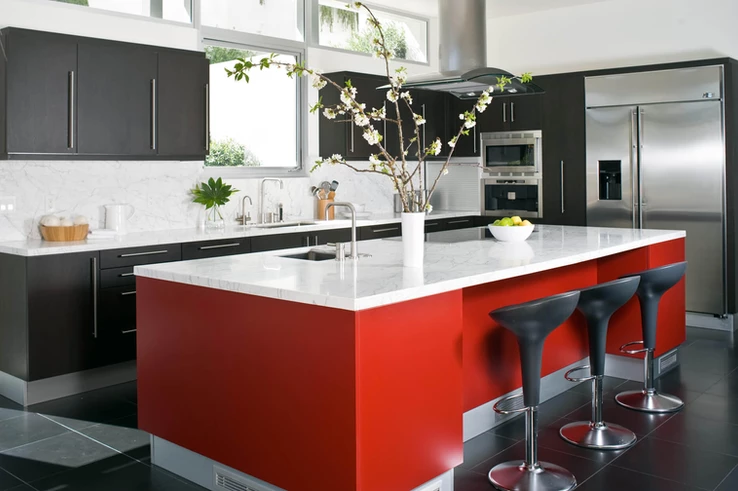 Red is a surprisingly versatile colour for the kitchen, especially when red colour laminate paired with a dark neutral. Choose your shade of red colour according to your kitchen style. For a modern kitchen look, go for an orangy red. If you are looking for a more traditional style, try a deep wine-colour shade—Balance the red with black cabinets, flooring, or countertops.
High Gloss Off White with Red Backsplash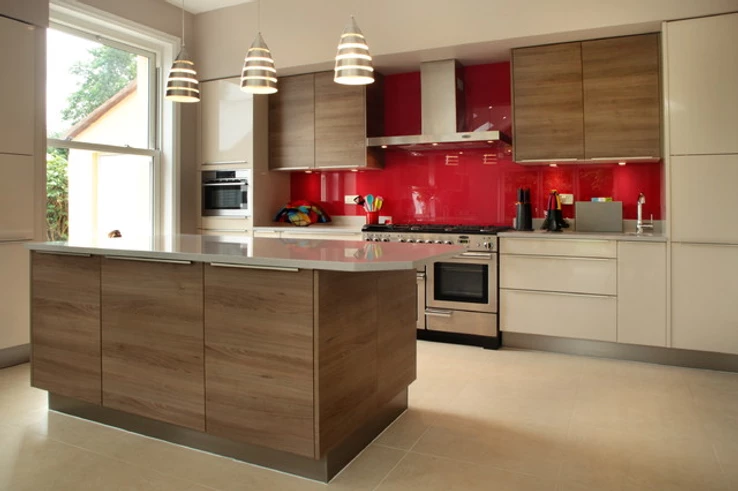 The glossy off-white cabinets and the red backsplash tiles reflect a lot of light and give the kitchen a bright look, while the contrasting matte-finish brown cabinets dial it down.
Here are Some Kitchen Laminate Color Selection Tips
How to choose laminate colours for a kitchen?
There is 3-4 material to choose from for your kitchen doors/shutters, but laminate is the best option for an Indian kitchen.
Reason: Laminate is a maintenance-free product that is easy to clean and maintain and, of course durable, it lasts for 10-15 years or even more. Keep in mind kitchen countertop colour while choosing laminate for kitchen shutters. Use plain colour high gloss laminates for your below platform shutters, rather than choosing textured/figured laminate, which will give your kitchen a sleek look and brighten your kitchen.
Disadvantages of using textured/figured laminates?
The kitchen is a place for cooking Masaledar Khana, sizzling Tadkas and boiling milk; since it is related to food, it directly connects to the whole family's health.
If your kitchen is facing an open road, then the chances of dust and dirt entering are very high, so to keep it clean and hygienic, plain coloured laminates should be used as textured laminates might be a little difficult to clean.
What if you want to use only textured laminate?
Every problem has a solution!
You can ask the vendor to give alternate options, e.g., plain laminate with a patterned surface without texture. Multiple companies' laminates are available to make veneer & wooden patterns basic laminates for easy maintenance.
How to choose kitchen overhead shutter laminates?
Use white colour high gloss laminate for kitchen overhead storage to cut down the heavy look, especially if your kitchen area is small. Dark colours on overhead storage feel heavy while working in the kitchen. You can also choose a glass profile shutter to show your crockery items, and if you don't want to offer it, you can select glass film or designer pattern. Glass helps maximize your kitchen space.
Vertical or Horizontal Grains, how to apply on shutters?
Interior design is a trick, which gives an illusion of more space. Use horizontal grain laminate on kitchen shutters, which will add more length in your kitchen than it's original size. Avoid vertical grain laminate.
How many colours should you use for kitchen laminate?
Colour choices depend on individual taste and other materials already used in your kitchen, i.e. Kitchen Countertop, Wall Tiles, Floor Tiles & Ceiling etc. We recommend using only two colours for kitchen shutters because using more than two colours makes it look unorganized and clustery; while working in the kitchen, it should feel leisure.
How to choose handles for kitchen shutters ?
Use self-attested profile shutter, where the handle is attached with aluminium profile fitting known as G-Section, Pull Grip Profile etc. You can use that for plain glass, back-painted glass, laminate, acrylic & PU finish. Nowadays, a push button (without handle) mechanism is also available for kitchen drawers, which requires only a soft push in the centre of the shutter, and it comes out automatically. If you push back, it shut down smoothly.
How to hide water purifier in kitchen ?
Arrange water purifiers above the kitchen sink with glass or laminate shutters with aluminium profile and remove the base part of the cabinet, so it can be easily accessible for maintenance and hidden.
Which Colour is best for kitchen laminate?
Darker hues highlight more working space.
Having light-coloured laminates and contrastingly darker-hued tiles can augment the kitchen's overall appearance to an entirely different level. The perfect combination should be yellow coloured Laminate (sunmica) with deep red coloured tiles.
Read more Article Related Kitchen Design Ideas
All said and done, the colour palette you choose for your kitchen should be something that appeals to your personality and resonates with your sense of style—still wondering how to get started? Classic Infahomes is here to help!
s